Free Workshops For June @ Home Depot Canada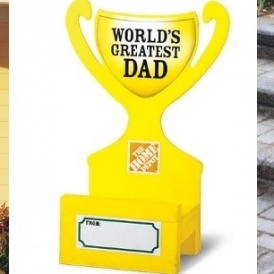 Welcome June - soon summer vacation will be here! With a new month, comes new free workshops at Home Depot! This month you can take the kids to learn how to build a World's Greatest Dad trophy, or even learn how to create or maintain your pavestone walkway. Home renovations can be so expensive, so why not learn how to do some of it yourself?
This month, the first available workshop is June 11th, so you have lots of time to plan your schedules.
Here are the free Home Depot Canada workshops available this month:

Build A World's Best Dad Trophy Phone Holder
This workshop takes place on Saturday, June 11th at 10 AM through 12 PM. During this event you and your kids will learn how to build the World's Best Dad Trophy Phone Holder. What a great Father's Day gift!
Painting Your Home's Exterior
On Wednesday June 15th from 7 PM through 8 PM, you can attend the Home Depot workshop to learn how to prep, paint and stain your home exteriors including windows and trims.
Create or Maintain a Pavestone Walkway
On Saturday, June 18th from 10 AM until 11 AM you can learn about the products and processes involved in creating or maintaining a long-lasting pavestone walkway.
Learn How To Maintain Your Deck
If you have a deck, head on over to Home Depot on Sunday June 26th from 1 PM until 2 PM to learn how to clean your deck and prepare it for a new finish. You would be surprised what a new finish can do for any deck!
Have you ever taken a workshop at Home Depot? Would you recommend them?

(Expiry: 30th June 2016)