Free Stuff Canada: Couture-inspired Dior wallet!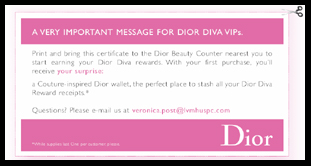 Go to the Dior site, click "join the club" and register. Once that is done, click on the print icon and you can print out a coupon to claim a free Couture-inspired Dior wallet. I have saved a copy of the coupon here if you don't want to go through the signup process.
You can claim your free item at your local Dior Beauty Counter, for example in store @ the Bay or Shoppers. Now, it does say on the coupon that it's free with your first purchase, but reports on other forums suggest that you don't even have to buy anything, they'll just give you the freebie!!!
Please let me know how you get on with this freebie! Good luck!
- Anna