Free Printable Colouring Pages Roundup For Some Easter Fun!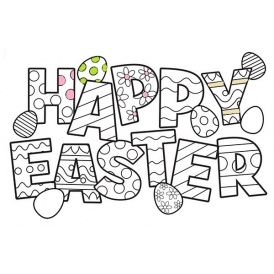 Hippity-hoppity Easter weekend is here! If you are looking for a great way to spend some quality time with your little ones, why not print out some adorable and free Easter theme colouring pages? Many websites have free colouring pages available, but it is hard to find good quality printable images for your kids. Don't worry, I did the hard part. All you have to do is follow the links and print the images you (and your happy-hoppy children) like.
Crayola is always the first place I look when it comes to colouring pages. They always have holiday themed pages available that are high quality and appealing to colour. This Easter, you can print anything from an adorable Easter Bunny to different Easter puzzles like Mix-Up, Easter Scramble, and more. Crayola Canada has 18 different colouring images available.
Activity Village approaches Easter colouring pages with a more realistic view. Their art is a little more realistic compared to Crayola's adorable cartoon style. You can print a basket and allow your kids to colour it in while adding their Easter eggs to it. You can even create some foam eggs with sparkles and paint that the children can glue to the inside of the basket.
FreeFunEaster.com has a variety of different free activities for Easter. You can look at Easter crafts, recipes, colouring pages, egg decorations and even basket ideas. They have quite a variety of colouring pages available to print for free. This page is great if you're looking for a more spiritual offering.
Coloring-Book has a large variety of Easter colouring pages. They have a diverse selection of characters from hedgehogs to bears and even mice. These images have a lot more detail so might be better for older children.
I prefer the Crayola colouring pages over all. With colouring pages out for every occasion you can check back for future events like Mother's Day, Earth Day and even Back To School! I also find that the Crayola pages print out with the best resolution, but Coloring-Book also has pages with great quality. Why not print out a bunchof these free colouring pages and staple them together to create little colouring books. A sure-fire way to keep kids occupied while adults mingle.
Hoppy Easter!