Free Krispy Kreme Doughnut or Dozen of Doughnuts on Sept 19th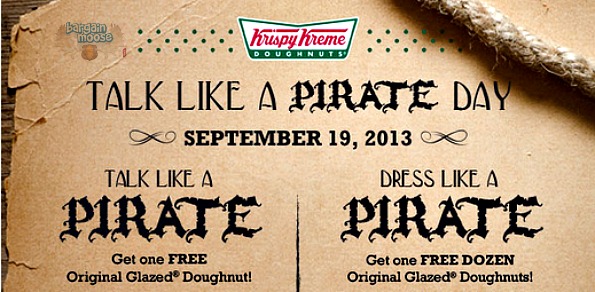 Tomorrow only is a fun day at Krispy Kreme Doughnuts. It is called Talk Like a Pirate Day and you will be able to get a free doughnut all day long.
There are two options for free doughnuts.  You can walk into your local krispy Kreme Doughnuts and get a free glazed doughnut just by talking like a pirate.  This includes saying things like "yo ho ho", "heave ho!", "blow me down!" and "thar she blows". This offer is good for one free doughnut per customer who talks like a pirate to a Krispy Kreme team member at a participating shop.
The second option is for the more adventurous but you will get a bigger reward.  You will be able to get one free DOZEN doughnuts if you are dressed like a pirate.
Dressing like a pirate includes wearing any three of these items to qualify:
eyepatch
pirate hat
bandana
costume hook
peg leg
pirate shirt
parrot
knickers
They will not give you anything if you bring in a fake weapon such as a sword or gun so please leave these at home.
Have fun dressing or talking like a pirate tomorrow and enjoy your free doughnuts!
(Expiry: 19th September 2013)