Free Admission ($18 Value) To The Calgary Stampede!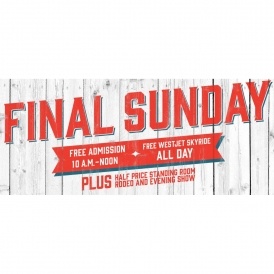 If you're looking for something to do tomorrow and are in the Calgary area, you could take in the Stampede for free, from 10 A.M. - noon, for the final Sunday that it runs.
The Westjet Skyride is free all day Sunday too, plus, you can attend a half price standing room rodeo and evening show.
FINAL SUNDAY 2016 Celebrate Final Sunday at Stampede! On Sunday, July 17 we are offering free admission to Stampede from 10 a.m. to Noon. Once on Park enjoy free WestJet Skyrides all day long and half price Standing Room tickets for the Rodeo and Evening Show (while supplies last). We hope you can join us to celebrate the last day of Stampede 2016! All of the great free entertainment that you've come to expect from the Stampede will be in full force.
The weather report calls for scattered showers tomorrow in the Calgary area, but that can be half the fun of it, too. One of our happiest family memories involves being pelted with rain while on a ride at an amusement park.

(Deal expiry: July 17, 2016)