FREE 2000 AD Judge Dredd Comic - 130 Pages!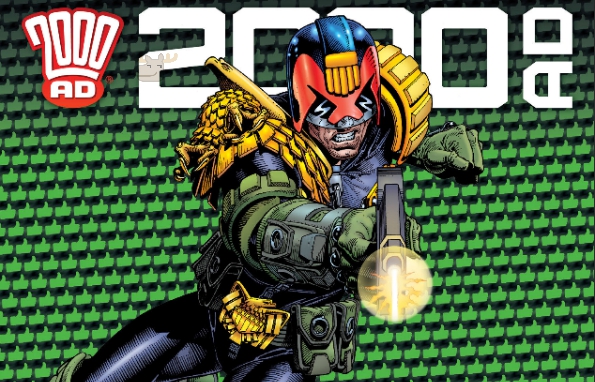 In honour of reaching 50,000 likes on Facebook, 2000 AD Online is giving away a 130-page Judge Dredd comic for free to their fans. I am a huge fan of comics, especially ones I do not have to pay for, and the length of this comic is pretty impressive for a freebie.
Just download the comic to your desktop and it is not only free for you to read but also free for you to keep (in digital form of course). The comic features art by John Wagner, Alan Grant, Al Ewing, Brian Bolland, Jock, and many more artists.
I skimmed through the comic and the art looks pretty good. I am not a big Judge Dredd fan myself... my knowledge is limited to fans' reaction to a certain somebody in a certain Judge Dredd movie taking off the mask. Lesson learned: never take off the mask if you are going to cosplay as Judge Dredd.
Now, if you are a Judge Dredd noob like me... then this summary of the character and his powers will be useful.
Joseph Dredd is an American law enforcement officer in the dystopian future city of Mega-City One. He is a "street judge", empowered to summarily arrest, convict, sentence, and execute criminals.
Thank you Wikipedia. He is sort of a judge, jury, and executioner all rolled into one. If you know the context of that phrase, then you know that those three things combined are never a good thing. However, Judge Dredd supposedly uses his powers for good. Read the comic and tell me what you think!
I am not sure how long the PDF will continue to be hosted for free online. Thus, I recommend downloading it at your earliest convenience. The PDF will take a while to load as the pages are extremely high quality images and there are 130 pages.
I hope you like this fun little freebie my Moosers. Comics have come back in a big way lately, thus I am happy to share this kind of deal with you.,
(Expiry: Unknown)