Canadian Freebies: Nature Valley Or Oatmeal Crisp Free Product Coupon @ Save.ca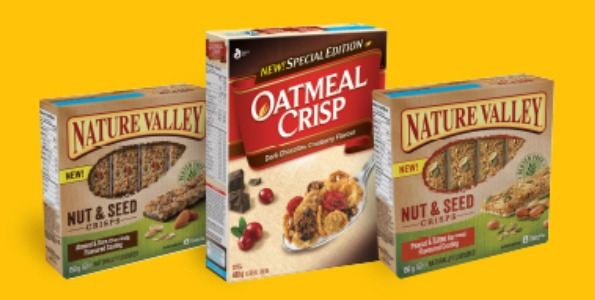 Click through now and you can receive a coupon mailed to your door for a free full-size product. You can choose between a box of the new flavour of Nature Valley granola bars or a box of the new flavour of Oatmeal Crisp.
Life Made Delicious has teamed up with Save.ca to offer you a delicious freebie. Right now, you can click through the Life Made Delicious coupon portable above and grab a free product coupon. This coupon will entitle you to a full sized new product that is redeemable only on Wednesday July 24th. Set you calendar with a reminder so you do not miss it.  Brooke blogged about a free taco seasoning coupon the other day through Save.ca that worked similarly. This freebie also says it is part of the Free Friday program. I am not sure where the Friday part comes in this time as you redeem this coupon on a Wednesday, and today is a Monday. As long as the free part works, it is fine with me! You must have a Save.ca account to claim this coupon but you can sign up for one for free.
This freebie includes two product choices. I am glad to hear there is a choice, as sometimes the freebies that are limited to only one day can be difficult to find in the store. Big freebies are swiped up quickly. This is a full-size product after all.
First up is Oatmeal Crisp Cereal, which is available in five different flavours. This is not the brand of cereal I usually pick, but the Vanilla Almond in that line sounds delicious. I do not see the flavour featured for the coupon on the website, but it looks like the new flavour is either a cranberry chocolate flavour or a cherry chocolate flavour. Either way, it sounds like we should have a delicious choice.
Also included are Nature Valley Nut and Seed Crisps. I looked at the General Mills Website but did not find any information about this type of bar. Nature Valley bars are usually delicious, packed full of nuts, dried fruit, chocolate and seeds. I usually prefer the chewy versions of their bars but may try these nut bars because they are packed full of seeds. The image is not clear exactly on the flavour, but I am seeing almonds on both featured boxes.
Grab your coupons now for these great freebies. I know one of the times I sent away for a limited time coupon like this, they ended up sending out a bunch more freebie coupons when they ran out of stock at many stores. Then I was able to grab my freebie more leisurely, it was great. You should receive the coupon in five to eight business days.
(Expiry: Unknown)