Canadian Freebies: John Frieda Root Awakening Sample
John Frieda has a nice trio for a freebie, the Root Awakening Collection. This set includes: Root Awakening® Shampoo, Conditioner (8.3mL) and Smoothing Lotion (4.4mL). I have never tried John Frieda products before but this offer has been getting some really nice press on other websites and people have good things to say about it so far!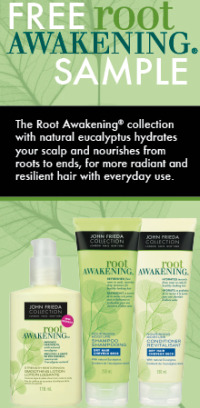 The form was simple, and you do not need to give your phone number (no * besides the phone number box) which I prefer with offers. You do, however, need to be 18 to take advantage of the offer.
I love free samples! Even if I don't use them, I donate them to community agencies for their clients. With the economy the way it is the homeless population has increased (at least in our city) and anything to help is always welcome. Little toiletry samples like this fit well in backpacks and make for easy transportation.
I am also one of those 'evil' people who confiscate the toiletries from hotels, and then donate them to community agencies as well. There seems to be some controversy over whether that is proper if you haven't opened the little shampoo or soap bar. What says you?
It says to allow 6 - 8 weeks for delivery.