Canadian Freebies: Free Sample Of Escada Fragrance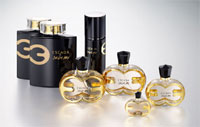 We've got a little freebie today! You can order a free sample of Escada fragrance, either "Desire me" or "Incredible Me" or both! Desire Me is the new seductive fragrance from the House of ESCADA.
Just make sure you enter your city correctly, and enter your postal code with no spaces in it. The site was a bit slow, but I finally managed to get it to go through. Hopefully we'll get this Canadian freebie soon! It's great to get little samples of scents like this. You can find out if you like it, and decide whether you want to buy it, or have someone buy it for you!!