Canadian Freebie: TRESemmé 7 Day Keratin Smooth System (Facebook Needed)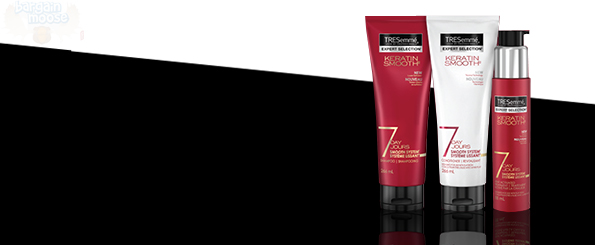 These days, I am seeing more and more companies using a Facebook app to give out a chunk of free samples… and I've just spotted another one. This time, it's from TRESemmé Canada, and they're giving out 25,000 free samples of their 7 Day Keratin Smooth System. Here's how to get it:
On the above page, click "like" then "let's go." You have to do a makeover of your profile pic on Facebook and then you can fill in your details for the free sample. They say that the free sample will arrive within four to six weeks. At the last stage of this process, it says "update profile pic" – I am guessing that you can choose not to do this, as long as you've ordered your freebie, you don't actually have to use the edited profile picture on your Facebook home page.
TRESemmé say that the 7 Day Keratin Smooth System works like a Brazilian blowout on your hair and it keeps your locks smooth for up to seven days, even through multiple washes. I am sure the results will vary depending on the type and length of your hair.
I've got long, dark hair and the only thing that can keep it straight is a styling at the hairdressers. I have my own GHD flatirons, but I can never do quite as good a job as the stylists who blowdry then straighten my hair. When I get it done at the salon, their work usually stays well for five or six days and I can go that long without needing to wash my hair again. But when washing and styling it myself, I usually have to do it every few days instead. What about you? Have you ever heard of or tried this 7 Day Keratin Smooth System from TRESemmé?
(Expiry unknown)