Canadian Freebie: Starbucks Tall Blonde Roast Coffee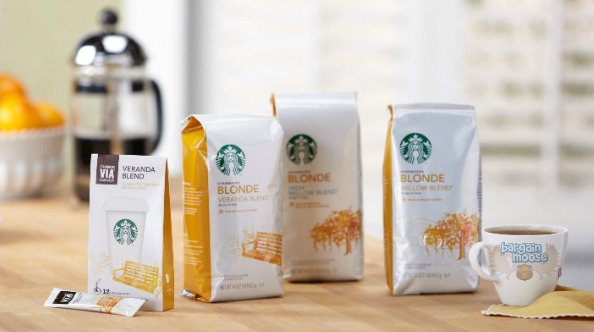 Starbucks Canada is having a fantastic promotion on right now where you can not only get a FREE Tall Blonde Roast Coffee, but also be entered to win a trip anywhere in Canada!
So here's the dealio -- Starbucks wants your help to create a new name for their Blonde Roast Coffee.  The grand prize winner will receive a free trip to any Starbucks location in Canada, to meet a friend for coffee. If your creative name is selected, you will also be able to see it displayed on all Starbucks Blonde Roast packages across the country! There is also two finalist prize winners that will receive free coffee for a year -- nice!
And that's not all. As a thank you for entering their contest, Starbucks is giving you a coupon for a FREE Tall Blonde Roast Coffee! I have to say, I'm not a big coffee drinker myself, but if it's free, I'll take it!
The contest is open to all residents of Canada (with the exception of Quebec), and you must be over the age of majority in your province. All you have to do is "Like" Starbucks on Facebook, and then follow the directions given. The contest runs from January 28th to February 25th, 2013.
So get your creative juices flowing! I looked at a few of the entries that other people had posted, and some were pretty interesting. "Blonde Heaven" was a good one, and I also liked "Blonde Caliente". What was my entry? "Blondes Do It Better"!
(Expiry: 25 February 2013)