Canadian Freebie: 2,000 Valor Chocolate Bars To Be Given Away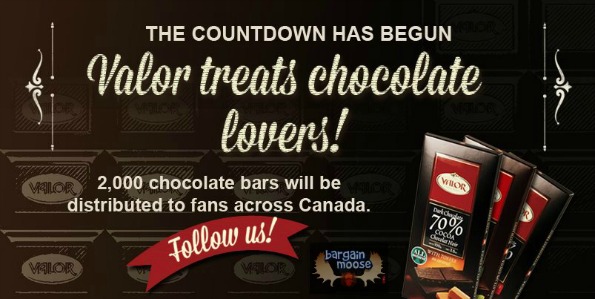 Love chocolate? Valor Canada is giving away 2,000 free chocolate bars on Facebook, starting today at 12 pm (EST). There is not a lot of details or specifics yet, but 500 chocolate bars will be given away each day (at different times) for the next four days. When you click on the link below, it will take you to a countdown showing you how many hours, minutes etc. to the next giveaway.
I can't say that I've ever tried Valor Chocolate, but in doing a little research, i found out that they call themselves the "Chocolate Masters Since 1881". So there's really no arguing with that!
They have many different flavours such as dark chocolate with mint, or orange or even banana! Hmmm...a banana flavoured chocolate bar? That's a new one!
As with most Canadian freebies, the 2,000 bars they are giving away will go VERY quickly! So if you are interested in trying out Valor Chocolate, get on their Facebook page today at noon for your first chance.
If you are lucky enough to snag this freebie, please let us know in the comments below!
(Expiry: 28th February 2013)