Ventura 9 Piece Family Camp Combo Only $75 @ Walmart Clearance! Quick!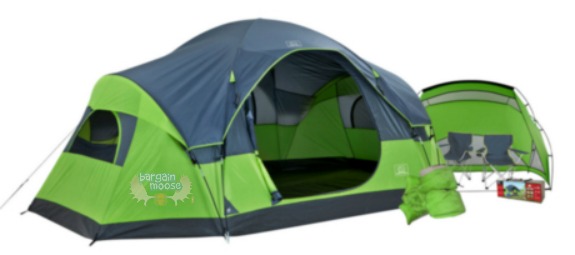 BUMP - now down to only $75 & free shipping from Walmart! And as it is in the "clearance" section, it may not last long as this price.
If you are looking to spend sometime under the stars this coming summer, take a peek at this Ventura 9 Piece Family Camp Combo at Walmart, a great deal at $97.94 only $75!
This camping set comes with everything you need to enjoy a good night sleep in the great outdoors this summer. In addition to the 6 person tent, it also comes with 1 sun shade, 2 adult sleeping bags, 2 travel sized pillows & 2 folding chairs.  The sleeping bags are rated for -45 degrees. Like all tents, it also comes with a rain fly (partial) that allows for better ventilation and movement of air inside tent.
The 6 person tent is ample room for a family of 4-5 with room for storage and is rain resistant, always a plus just in case. The manufacturer has recommended 2 people to assemble or disassemble.
Although I haven't personally used this tent, at this price if you were to get two seasons out of it, then it was money well spent.
One item that is included that I think you could put to good use outside the campgrounds is the sun shade. If you coach soccer or if your child plays soccer, you know how hot it can get on the sidelines. I've noticed more and more of these popping up at the local soccer pitches and I think its a great idea. It keeps the sun off the players and gives them a common area to congregate.
Another spot I think the sun shade could come in handy is the beach. Its always nice to be able to create a little bit of shade when your planning on spending the day by the surf.
The majority of the reviews on this product are very positive, like this one:
Bought this as a Father's Day gift for my husband. He took our son camping and loved it. Tent was bigger than expected!
As always, Walmart offers free shipping with no minimum required.
(Expiry: unknown)