Walmart Canada: Xbox One Halo Masterchief Collection & Bonus Game Was $419 | Now $349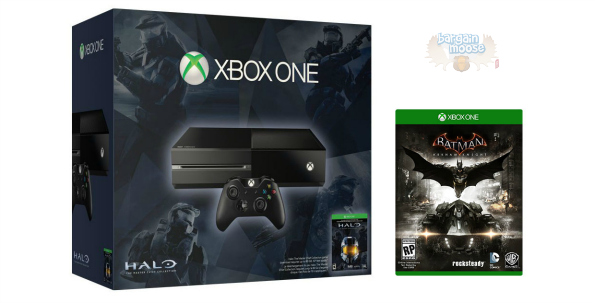 Walmart Canada has bundled together the Xbox One Halo Masterchief Collection with three different games! Each bundle would cost you $418.98, but they are discounted to $349.01 with free shipping!
There are three bundles to choose from in this Father's Day promotion. These deals are pretty hot as you receive the Xbox One Halo: Master Chief Collection edition, which includes The Master Chief's entire story with Halo Combat Evolved: Anniversary, newly remastered Halo 2: Anniversary, Halo 3, and Halo 4. Then you get a free game (three different choices).
I price compared with Amazon Canada, which always tends to be Walmart's biggest competitor. To buy the console and each game at Amazon Canada would cost:
Xbox One Halo Masterchief & Mortal Kombat X | $349 + $65.81 = $414.81
Xbox One Halo Masterchief &  The Witcher 3 | $349 + $67.78 = $416.78
Xbox One Halo Masterchief & Batman Arkham Night | $349 + $69 = $418
As the Xbox One Halo: Masterchief edition retails for $349 alone at either Amazon Canada or Walmart Canada, you are essentially receiving the additional game for free.
The only thing left to decide is what game you are going to pick from the collection. If you are buying an Xbox One, then you most likely do not own any of these games for that console yet either. I am torn between Mortal Kombat X and Batman Arkham Night. My geek side is all "let's go Batman" but I remember playing Mortal Kombat type games in the arcade when I was younger - they were so much fun. I think I would prefer Mortal Kombat X myself.
I checked out other websites but could not find a deal like this anywhere else. For your money, this is about the cheapest way to pick up the new Xbox One console and a few games at the same time. I think I have seen slightly cheaper refurbished consoles, but not by much. This bundle has the added bonus of including the hard-copy edition of the game you choose (Batman, Witcher, or Mortal Combat) instead of just a redemption code.
(Expiry: 24th June 2015)