Walmart Canada: Rapid Car Shelter On Clearance - Now $129 (Was 397)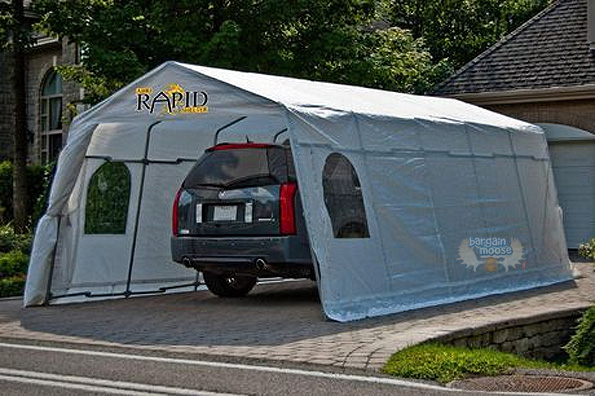 Wow, here is a smokin' hot deal from Walmart Canada! While supplies last, hurry to get your hands on a Rapid car shelter because it's currently 68% off and can be yours for just $129 instead of its regular price of $397.
Made of 1 ¼" galvanized steel tubing and welded type tarpaulin, this car shelter is 11' x 20' and is 100% waterproof. Although I'm no expert when it comes to car shelter, this one definitely looks easy to assemble onto any driveway. In fact, according to its features, it requires no tools and can be assembled in five minutes, though perhaps you should give yourself a bit more time than that just in case, especially since in this Rapid shelter assembly video, it gets assembled in a fast-forwarded two minutes and by two people.
Plus, with a description like "engineered to withstand Canadian winters", you certainly can't go wrong, but do keep in mind that snow would nevertheless need to be cleared periodically. To avoid any damage in cases of high wind, it's also recommended that you anchor it.
It only looks suitable for one car but if you have a big enough driveway, then my advice would be to get two of these bad boys because at this price, you certainly won't find anything cheaper, especially not for double the size!
Price Comparison
Although I didn't find this exact car shelter anywhere else, the cheapest one I did find is the 10' x 20' All Purpose canopy at Canadian Tire for $149.99. Even then, however, it simply doesn't compare to the Rapid one because on top of being slightly smaller, the fabric doesn't cover the sides (only the top). The most similar I found to the Rapid one is the Clearview one, also at 11 x 20 ft but with a $329.99 price, it's more than double the price of the one at Walmart.
Shipping
Surprisingly, shipping is also absolutely free!
(Expiry: Unknown)