Walmart Canada: LEGO Helicopter Rescue Only $55 (Was $75)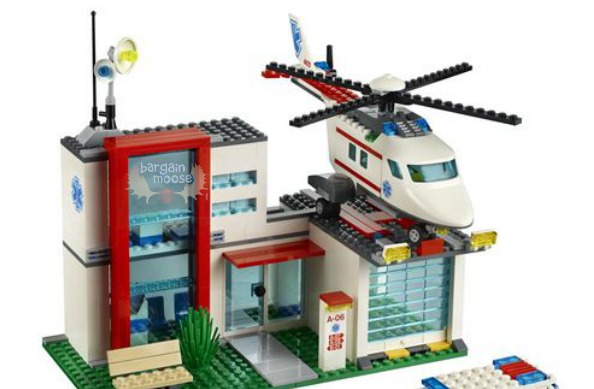 It looks Walmart is clearing out a huge batch of Lego sets right now and you can take advantage by getting some great sets for clearance prices. One set I found notable was the helicopter rescue, which was $74.86 and now only $55, which is savings of $20. Of course, you'll also get free shipping.
With Christmas going to pop its little head up soon (hey, it is soon, it has even already snowed!), you might be thinking about Christmas gifts for the kids. Lego is just such a perfect gift for boys and girls, especially ones you don't know what they like because I think everyone loves Lego.
This set includes a hospital, ambulance, helicopter and minifigures. It is quite the cute set for the child who loves to be the hero. I personally would have loved this set as a kid because I have a fascination with hospitals (and airports). I love the organized chaos that you see in a hospital or airport and would have loved role playing trauma situations. There are many positive reviews on this set, but the only notable downside was that they say it is small for a hospital, but I would assume a larger hospital set would go for about $150-$200.
This hospital was a good set! I love the helicopter and bench. But I felt that the set was not complete with only 2 beds! And the sign that said A-06 meant that was only a part of the hospital which was A-06! still I think it was a good set otherwise! I love this hospital also because the little waiting room and the ambulance! The price was way better than the last hospital! Great (good) Set!
If this isn't really your child's thing, there are actually quite a few other sets also on clearance with large discounts.
If your kid is into Ninjago, check out this NinjaCopter, which is now only $40 and was $74.86. That's a savings of over $35.
When I first did a search for LEGO and found many sets at amazing prices, I didn't realize how many are already sold out. So, if you want this set or any of the other sets available online, I suggest you don't wait because it could go out of stock as quickly as I am writing this. I know my kids would have loved the amazing deals on the Star Wars Lego, but I've already missed out. I hope no one here misses out on what they want!
(expiry: limited quantities)