Walmart Canada: Gravity Chair Only $28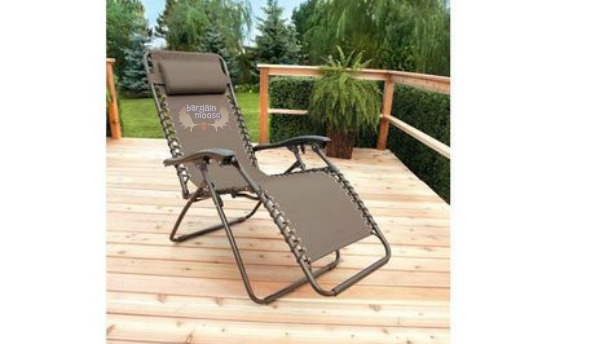 Need somewhere to relax this summer and a regular chair just won't do? How about a gravity chair and how about only paying $28.94 for it and getting it shipped for free? You're welcome.
While this chair isn't technically on sale, it is part of Walmart's Anniversary sale promotion and much cheaper than you'd find it elsewhere. This is the Mainstays brand, which is Walmart's brand so while I won't find this exact chair anywhere else, I can give you some idea as to what these chairs cost elsewhere. Home Depot has a zero gravity sling lounger on for $39, sold in-store only. Canadian Tire has a sling deluxe zero gravity chair, but with an added footrest for $99, also only in-store pickup. Costco has one for $94.99. As you can see, the prices vary widely, I'm sure based on quality and such, but to me, they all look pretty similar. If you want to go all out and spend $100 a chair, that's your business and you are welcome to it, but if you are looking for a good deal where you can get almost four chairs for that same cost, this deal is it. Oh, and they'll come right to your door too.
If you aren't familiar about what a gravity chair is, it is basically an innovative chair that lets you recline to the exact position you'd like. There is no more, a little too low or a little too high. This is the perfect chair for lounging, reading, sunning and even napping. The description says this chair is durable, which it looks like it will last as long as it is taken care of.
I have absolutely no patio furniture and I'm considering getting five of these for my backyard - one for each member of my family. I need a quiet spot to read outdoors, as that is probably my most favourite things to do. I see that all of the stores near me are sold out, so I'll assume the chair will sell out online quickly too.
(Expiry: Unknown)