WagJag Canada: $21 for 4 Pairs of EZLACES (a $47 Value)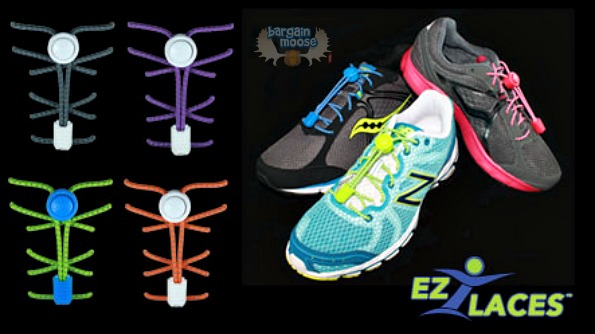 WagJag Canada has a great deal on right now that I am really excited about.  Get four pairs of EZLACES for just 55% off the regular price.
The regular cost of these laces is $47 for a set of four, but you can get them at WagJag Canada for just $21.
If you are unfamiliar with them, they are great for both kids and adults. I know I have a couple of pairs already on my running shoes.  They are no-tie, supportive elastic shoelaces that are perfect for both running and everyday use.  They are made with reflective threading, which is great for people that like to run at night.
Each pair includes two 42-inch elastic laces, 2 locks and 2 lace clips and you can choose from 5 different colour combinations. I like that they eliminate the risk of your laces coming untied while you are running or at the gym or just playing with the kids outside.
You will be able to purchase 25 buys per person and they will arrive within 2 weeks of the deal closing.
As for the cost of shipping, well, there is no cost!  It is absolutely free!
(Expiry: 16th April 2014)