UGG Shearling Earmuffs w/ Build-In Speakers Only $67.98 & Free Shipping @ Town Shoes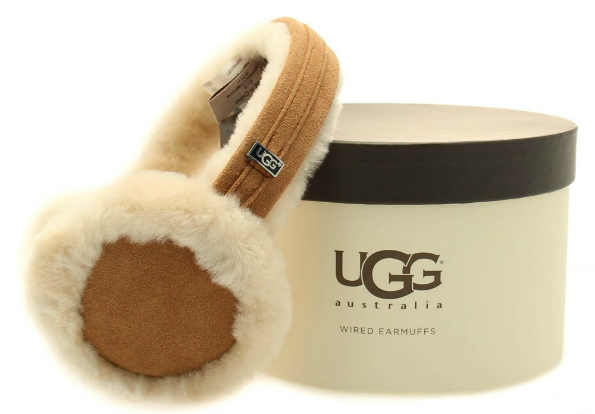 Want the perfect marriage between some cool tech, a popular brand, and a warm winter accessory? Then check out these awesome UGG Australis Shearling Earmuffs with built-in speakers. Originally $85, this headset and earmuff combo is now on sale for $67.98. It is like they know what it is like to be listening to your music while waiting for the bus on a cold and frosty Canadian winter morning! Join the Shoe Lovers Rewards club (free) for free shipping at Town Shoes on orders of $35 or more, thus giving you free shipping on these earmuffs.
These earmuffs are true UGG style. They are made of genuine suede with exposed shearling both lining the inside of the earmuff and trimming the outside as well. In the chestnut colour, they will match your beautiful UGG boots. However, these earmuffs have a secret. They have built-in speakers with a removable cord. When you remove the cord, they look like regular earmuffs and can be worn as such. Use the cord to connect the earmuffs to your iPod so you can listen to your tunes.
I checked this product out on other Canadian websites and discovered the original price at Town Shoes is already the lowest! Look, Hudson's Bay sells these same earmuffs for $98 and they are $90 at Little Burgundy. I was reading about this on Little Burgundy's website hoping to get more details when I noticed they mention a microphone. I am guessing there is a microphone built into the cable - like an iPod cable - but I cannot say definitively.
Either way, this is a cool accessory for these cold months. I used to take the bus all the time to university and I would positively froze my ears off while wearing my oh-so-cool Dr. Dre beats. I would have loved a pair of these to keep my ears warm every morning on my way to university. <3 I am sure teens walking to school would also enjoy a pair of these even though 'staying warm' is still not cool in the winter. ;)
Personally, I could see using these for winter walks, running errands, walking to the post office, and more. They are super useful and very practical given our Canadian winters.
(Expiry: Unknown)