Tria Beauty Canada Promo Code: Exclusive $85 Free Gift With Purchase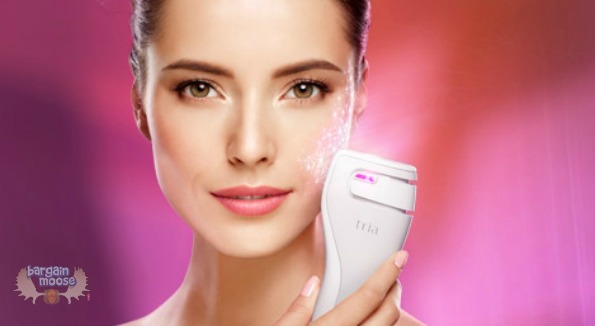 With Christmas coming up, you might be thinking about those big gifts you know your friends or family want, that you want to give them. If you know someone who has problems with unwanted hair (don't we all) or poor skin (hand up here), Tria has a great incentive right now to get you shopping there for all your gift-giving needs. Get an $85 free gift with the purchase of any device and while using the exclusive promo code below.
Click here to shop @ Triabeauty.ca now
Coupon Code: MOOSEHOLIDAY14
Discount: free gift with purchase
Expiry: 19th November 2014
The extra gift you'll get with your purchase, which is worth $85 is a seasonal beauty bag and the Finishing eye cream.
If you are worried about trying a device such as these, you only need to read the reviews posted that will help make your decision a little easier. I would definitely pay $340 to get clearer skin with the Acne clearing blue light. The deluxe kit also includes the foam cleanser and skin perfecting system, which means with the free gift on top, you have the entire system you need for clearer skin, and a place to keep it all.
Like I said, read the reviews and I found this one incredibly helpful:
I spent so much money on different products and when I say I used "everything", I mean it. Some products would take a long time to see results, but with Tria, I saw results immediately! I don't break out often, but when I do, it's pretty bad. My working hours make it hard for me to go to a dermatologist, so having this product at home is a blessing. I still have scars from my break out, but I can always "cover" those and will eventually disappear. The fact that my bumps are minimizing is a huge improvement. I read some reviews complaining about the price, but if I add up all other products I've "tested" and failed, this is definitely worth it.
What was also great about the reviews was that they weren't just women, and they weren't just from younger people. This system works for males too and for the younger and older among us. You think because we hit pre-menopause our acne should go away, but no! I have acne and wrinkles and I think it is totally unfair! I have yet to try something like Tria, but I'd really love to.
To top it off, they offer free shipping and a 90-day money back guarantee that almost proves you'll love it. For more exclusive coupons, visit our coupon page and keep an eye on the Tria page as I know we have more discounts coming!