Trade Secrets: Buy 3 Get 1 Free China Glaze & Valentine's Sale & Free Shipping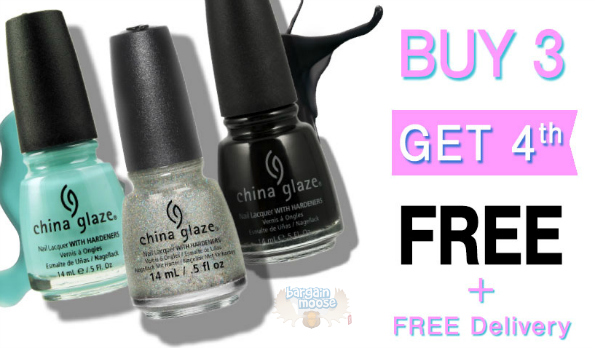 Trade Secrets sells everything you would ever need for your nails. Right now, they have a special deal on the brand China Glaze. When you purchase three China Glaze polishes, you will receive the fourth for free. You will also receive free shipping with no minimum.
All China Glaze bottles of nail polish cost $9.95 each. All you need to do is find some amazing colours you cannot live without. Add four polishes to your cart and then only pay for three of them. I picked out:
I love funky colours so the gorgeous black, neon green, seductive purple, and shocking blue all fit my personality.
In my cart, the third nail polish came off so my total was $29.85 with free shipping. Now, this offer does 'stack' in that if you buy six bottles of nail polish you will receive two free and if you buy nine you will receive three free. The free bottles of nail polish will be automatically discounted in your cart.
Now, there is also a Valentine's Day Sale on right now with 20% off select items and free shipping. The sale is on cosmetics and includes brands like Ardell, Body Drench, Deca, and more. The sale shows the current sale price, but does not show the original price. I had to add items to my cart to see the discount there. This Body Drench Mango Moisturizing Lip Balm is on sale for $4.95. Once I add it to my cart, I see that I am saving 99 cents off the original price.
I never knew that OPI made anything besides polish, but in the sale, I found an OPI Avojuice 5 Mini Assorted Scent Pack on sale for $9.95. You are saving $1.99 of the original price. The set includes five 30 ml containers of lotion in the following scents: Ginger Lily, Sweet Tea, Cran & Berry, Mango, and Hibiscus juices.

Both these promotions can be in the same cart and you will see the discounts calculated separately (as shown above). I thought this was a very cool feature of the Trade Secrets cart.
The Valentine's Day sale will end on Valentine's Day, but I do not know when the buy three, get one free promotion for China Glaze will expire. If you see this promotion over, please comment to let us know.
(Expiry: Unknown)