Today Only! Porter Cable 3 Tool 18Volt Lithium Ion Cordless Kit Was $279 | Now $111 & Free Shipping @ Lowes.ca (EXPIRED)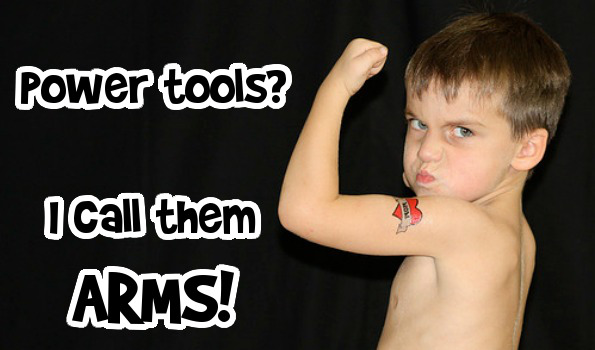 Someone must have sent Lowes Canada a text and reminded them Father's Day  is coming up. The Porter Cable 3 Tool 18 Volt Lithium Ion Cordless Combo kit was $279, but now you can grab it for only $111. Free parcel shipping is also included with this deal.
I am horrible at remembering holidays. I usually have a general idea that a holiday or birthday is coming up, but do not expect me to tell you the date without scrambling for my phone. Thank goodness I have computers to remind me now. Before my cell phone, I would often buy a gift then hide it, but sometimes I would still miss the holiday accidentally.
If you still need a gift for Father's Day, or just need a few new replacement tools now is the time to jump. Lowe's Canada has this set of three Porter Cable lithium ion tools today available and the price is similar to what you would pay for half of this kit. Included are the following tools:
18-volt Lithium Ion Drill/Driver
18-volt Lithium Ion ¼ Hex Impact Driver
Reciprocating saw
Two 18-volt lithium ion batteries
Charger
Saw blade for cutting wood, 6 inches
Bag to store all the tools
#2 Philips drill bit and double-ended drill bit
Amazon Canada Price Comparison
At Amazon Canada, the Porter impact drill and driver by themselves cost $158.18. To add the reciprocating saw will cost you $63.99. That puts your total for all three tools at $222.17 but does not include the bag. You could pick up the saw and driver with a bag for $139. To buy the impact driver separately, it will cost $163.85. That puts your total for all three tools including the bag at $302.85.
Home Depot Canada Price Comparison
Home Depot does not carry many of the Porter Cable line of tools. I did find a Milwaukee four tool lithium-ion combo set that includes a drill, impact driver, saw, bag and light made by Milwaukee for $199.
Reviews
Reviews look awesome. Overall most buyers are happy with this purchase. There are very few negative comments. Here is one review:
I work in construction & have tried all the big guns. I can honestly say that this set is a great buy. The drills blow all my others away & I am talking Bosch, Milwaukee, De-Walt. The double capacity battery lasted 3 days using off & on 8hrs per day, very impressive. Comes with a very durable bag too, not some cheaply made garbage.
Quick grab this set now, this deal is only good for today.  This is a great starter kit for someone who does DIY projects, a cheap way to replace failing tools or just a nice gift.
Image Credit: Robbie Grubbs
(Expiry: 11th June 2015)