The Source Canada: Acer Iconia 32GB Tablet Only $150 (Expired)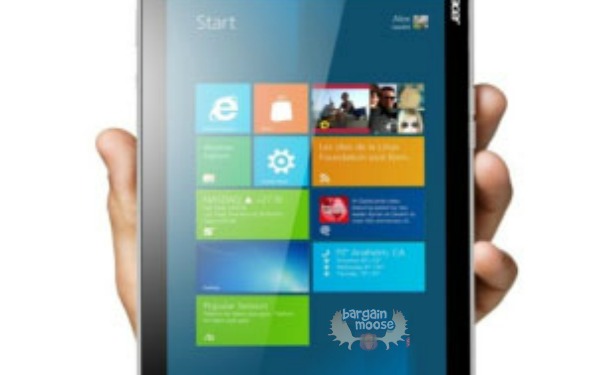 With back-to-school sales in full swing, it's that special time of year where education is paramount, and some parents are eagerly anticipating the start of the school year for their kids, whether they're in elementary school, high school, college, or university. One way that they can make this transition easier for their summer-loving kids is with a massively discounted Acer Iconia tablet that's being offered by The Source. For only $149.96, you can enjoy the benefits of a tablet for a fraction of the normal cost (a savings of 58% off of the regular price). According to The Source, it's a display model of the tablet, that's in mint condition and comes with a full manufacturer's warranty. It also comes with free shipping to your door, or even a 3-5 day store pickup option- whatever accommodates your needs the most.
Normally retailing at $359.96, the  Acer Iconia 32GB 8.1" tablet comes with Microsoft Office Home & Student. Since it comes with a full manufacturer's warranty, I think it's a great deal that you shouldn't miss out on- especially when you see what it retails for at other locations. At Amazon.ca, you can find it brand new for $388.04 and refurbished for $249.99, while at NCIX.com, they have one with an open box for $314.25.
At first, I considered a tablet to just be a gimmicky device that I didn't need- after all, I already have a laptop, and my smart phone can also use a wide variety of apps. However, once I was lucky enough to receive a tablet as a gift, I haven't been able to spend a day without using one (unless, of course, I'm out of town for the weekend). They're very efficient- you'll likely find yourself using it to check your emails, browse websites, check out TV shows and movies on Netflix or Youtube, or even write ideas or work on projects (especially handy on this device, since it comes with Microsoft Office Home & Student).
Laptopmag has a great review online about this tablet and there is a great review on Walmart's site:
I own a W3 for two weeks now and I am very happy with it. This is real, fully functional Windows computer in your pocket. It runs real Windows 8 (not RT) and it has full MS Office already installed, you just have to activate it. Amazing for this price! Interface is very smooth, no lags and glitches. Very convenient tools for meetings, can be connected to projector, recognizes hand writing etc. The screen is not bad, but can be better. Also it lacks some features like compass and GPS, but those is not very essential.
The Source also has several other tablets on sale, including the ACER Iconia Android Tablet - 8GB for $169.96, ACER Iconia Android tablet - 16GB for $129.96, and several other tablets that are all massively discounted due to them being display models.
(Expiry: 3rd September 2014)