The Bay Canada: $45 Off Men's Chaps Shirts & Free Express Shipping Until 1PM EST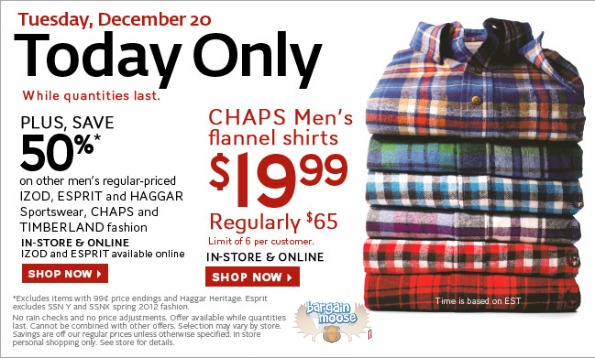 Today's one day deal at the Bay is $45 off men's Chaps flannel shirts. You can find this deal in store or online, while quantities last.
There is a limit of 6 per customer, both in store and online.
If the plaid flannel is not your style, you can save 50% off the regular price of other men's shirts such as Haggar, Izod, Esprit, Chaps and Timberland. This deal excludes items that end in $0.99 and Haggar Heritage and Esprit SSN Y and SSNX spring 2012 fashions.
Order by 1 pm EST today to get free express shipping when you spend over $45 to all major urban centres in Canada. If you live in the GTA, Montreal, or Ottawa, you have until 21st December, 2011 at 1pm EST to get your order in time for Christmas.