Teavana: Up to 75% Off & Free Shipping Coupon Code (EXPIRED)
Teavana currently has their annual sale on with up to 75% off tea and accessories. For three days only, they also are offering free shipping on all orders with no minimum.
Click here to shop @ Teavana now
Coupon Code: JANFREESHIP
Discount: free shipping
Expiry: 11th January 2015
You will also receive a free tea sample with every order. These deals together make for a really nice offer.
While I drink David's Tea, I use a Teavana tea strainer as their mesh is just finer and keeps more of the leaves out of my drink. I recommend this Stainless Steel Mesh Tea Strainer for single serving tea. Originally $9.95, the strainer is on sale for $6.97. Even if I just wanted this strainer, my cart would look like this.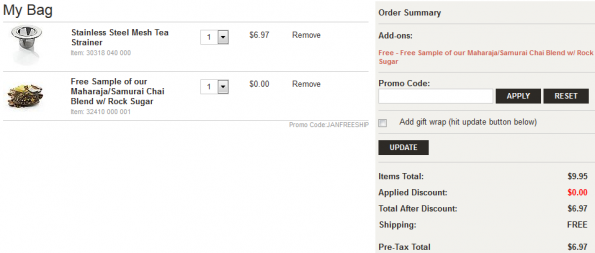 As you can see, the free shipping applies to even this one item and it looks like I will get a really tasty tea sample as well.
This White Chocolate Peppermint Rooibos Tea is on sale for 50% off the original retail price. Instead of $9.98 for 2 oz, it is now on sale for $4.99. The tea has many good reviews including this one:
Love this tea. Keeps me from eating candy ~ 3 pm when the dulldrums come. Will be my go-to gift this year!
That is one of the primary reasons that I buy sweet teas - they keep me from indulging in too many sweets as well.
I have been wanting to purchase one of these Round Footed Teapot Warmers for ages now. I generally make a pot of tea in the morning and by time I get half way through the tea, it is cold. This teapot warmer is 50% off, now only $19.98. The warmer is made of cast iron and uses tea lights to keep your teapot warm. I am not sure if it would work for my Blue Willow Tea Pot.
This Marshmallow Macaron Herbal Tea is another tea that tickled my fancy. I am a huge fan of marshmallows so that is the real draw for me. Originally $7.98, this tea only costs $3.99 per 2 oz right now. It appears that you need a very sweet tooth to enjoy this blend. However, some people have complained that the sweetness tastes too artificial. Well, you can always judge for yourself.
For this and any future Teavana coupon codes, please visit our forum. The Teavana sale will end on the 15th of January 2015.