Swarovski: Free Christmas Ornament With Purchase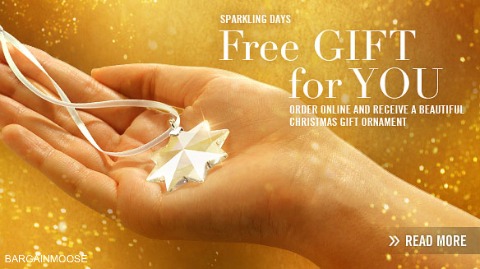 Swarovski Canada has a special surprise for all online shoppers! You will receive a free Christmas Gift Ornament with every online purchase over $160. This offer is only valid from November 2, 2010 for a limited period of time or as long as stocks last. I have no clue how long that time period may be!
Swarovski and Tiffany jewelry make up almost my entire jewellery collection. Swarovski supplies the sparkle, and Tiffany the simple silvery beauty. As I type this I am wearing a Swarovski necklace, you can see it here: Diamanta Necklace. All in all, they are great quality and beauty for their price. It is also very easy to spend $160. I love their ornaments too!
You also get free shipping on orders over $120.