Suzy Shier Canada: Free Shipping (Spend $25)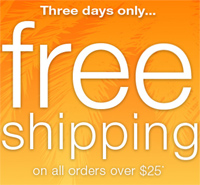 For the next 3 days, if you make a purchase more than $25 worth of clothing from Suzyshier.com, you will get free shipping. That's a pretty low minimum spend for free shipping (even though I wish it was zero)!
There's a red link on their home page to a sale section, where all items have an additional 50% off the regular price! It's worth having a hunt in there to see if there are any more bargains. There are a few Bermuda shorts and capris that catch my eye – great for the summer!
If you work in an office, I think Suzy Shier is great for office clothes. You can buy lots of tops and trousers and just mix and match for a bit of variety.
Expires 12th June 2009!
UPDATE: Extended to 15th June 2009