Surplus Clothing: Fred Perry Classic Canvas Rucksack Was $200 | Now $60 & Free Shipping (EXPIRED)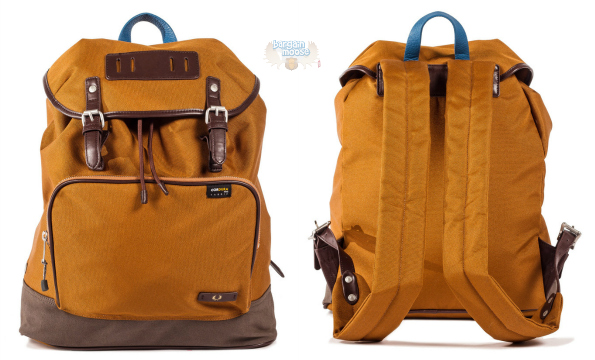 Surplus Canada has an amazing deal on this sample Men's Fred Perry Classic Canvas Rubber Rucksack. originally $200, this brand name backpack is on sale for only $60. Score free shipping (an additional $9.99 savings) with coupon code FREEWEEKEND.
This is an authentic Fred Perry rucksack. The backpack is made of heavy-duty cotton canvas with a PVC base and trim. The PVC base can handle rough surfaces and anything you throw this bag onto (except a fire... don't do that).
The style is influenced by utilitarian and military style with magnetic fasteners at the main compartment and a zip front pocket. To make you feel rich and famous, the bag comes debossed with a Laurel Wreath badge.
The Fred Perry bag is a good size as well. Measuring 44 cm high and 31.5 cm wide, it is suitable for a man's back. It can store all your essentials: books, cameras, tablets, cell phones, socks, spare underwear, and more.
Anna observed:
Even though this bag is in the men's section, there's absolutely nothing that makes it a "male" bag, in my opinion. The colour is pretty generic, it's quite a cute rucksack, and I'd even use it myself. Fred Perry is a well-respected brand too so I would also expect it to be good quality and durable.
I would certainly get this sack for myself. In fact, I have a backpack that is the exact same colour and about the same size. It is also made of cotton-canvas, which is my favourite material for backpacks. cotton-canvas is lightweight and extremely durable. Nylon is also lightweight, but the durability is only so-so. The nice, dense weave of a cotton-canvas bag really makes it quite durable. These are bags you will have in 20 years rather than throw out in two.
The shoulder straps actually look comfortable on this bag - bonus!
I price compared this bag with other online retailers. Amazon.com has the bag on sale for $99.99 USD. I found similar bags, from the same line, priced around $125 up to $150 on various other websites. Given the prices for Fred Perry bags to begin with, coupled with the price on Amazon, I think this is a great deal. The free shipping coupon is just a cherry on top of this good deal.
The free shipping ends on the 7th of June 2015.
(Expiry: Unknown)