Shop.ca: Mamas & Papas Strollers Up To 45% Off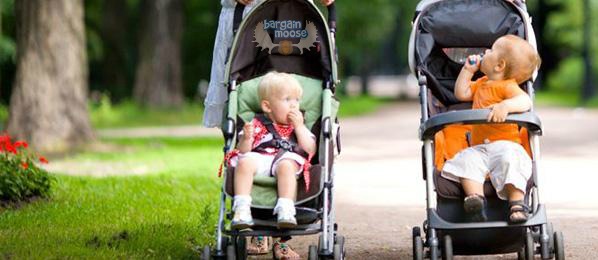 Shop.ca has a fantastic sale on Mamas & Papas strollers, with up to 45% off. I did some price comparing on other sites and found some interesting findings as well. Check it out!
I've said it before and I'll say it again. A quality, well-made and durable stroller with all the luxury features you need is a must-have for a parent. This is the one area I would not skimp on. Your child will spend quite a bit of time in their stroller, and you'll be pushing that stroller, so you need one that has great tires that handle any terrain (from the mall to the snowy sidewalk to the soccer field), one that is comfortable enough for your child to sit and sleep in, one that has enough storage for you to put all their junk and one that will last you through all of your children. To get all this, you need to spend the money, but you don't have to pay full price.
With 45% off these strollers at Shop.ca, while price comparing I found that Toys R Us is also having a sale on these strollers, but only one of the ones they had on sale beat the price of Shop.ca. They are selling the Luna in a stone colour for only $159.97, while Shop.ca has it for $199.02 in the same colour.
But, the Urbo that Shop.ca is selling for $349.97, Toys R Us has it on for $286.11 in lime jelly. The regular price for this stroller is $579.
Shop.ca has a larger selection of Mamas & Papas strollers, plus other items like stroller accessories, high chairs and carriers, all up to 45% off.
Shipping is free on every order too.
(Expiry: Unknown)