Shop.ca: FREE Hunter Sock ($50 Value) With Hunter Boot Purchase & Extra $50 - $60 Off Coupon & Free Shipping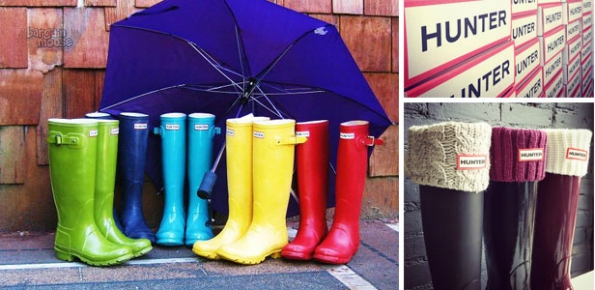 Shop.ca is offering a free pair of Hunter Socks worth up to $50 when you purchase a pair of Hunter rain boots. Depending upon the pair of boots you use, you can use one of our exclusive coupon codes for an extra $50 off $125+ or $60 off $175+ orders. In addition, you will receive free shipping on your entire order with no minimum required.
You need to add both the boots and the socks you want to your cart as the discount automatically comes off at checkout. When you use the coupon code, it will only show at the last stage of checkout - where you enter your credit card info - before review. Here is what your cart should look like with a pair of tall hunter boots and a pair of socks in it.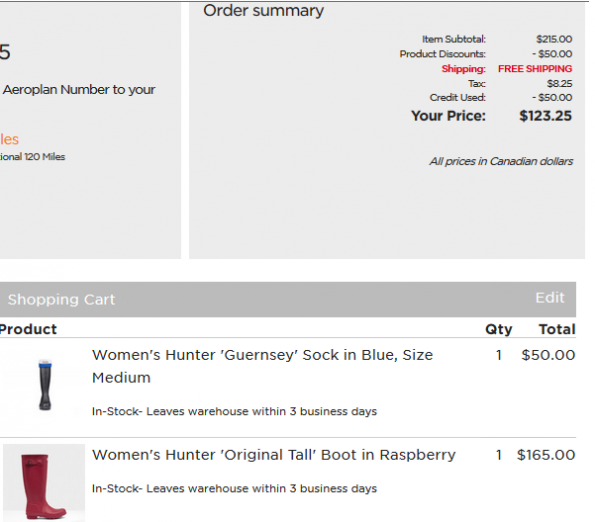 I added the Women's Hunter 'Original Tall' Boot in Raspberry for $165 and the Women's Hunter 'Guernsey' Sock in Blue for $50 to my cart. In the order summary you can see that the MOOSE50OFF125JULY coupon code took $50 off (shows as credit used) and the free sock equalled another $50 off for a combined $100 off my order. In total, I am looking at $115 + tax for a pair of tall Hunter rain boots and a pair of socks. While I can sometimes find the boots for that cheap, never has that price ever included a pair of socks.
If you like short hunter rain boots like I do, then your savings will be a bit different. This Women's Hunter 'Original Short' Boot in Black is what I own - exactly. It is the perfect practical rain boot. The boot retails for $155, thus it comes down to just $105 after coupon code. You only get one choice for a free pair of socks: the Women's Hunter 'Short Sock' in Cream ($30 value). Still, you receive a grand total of $80 off your order between the coupon code and the free sock. You pay just $105 + tax for both items.
If your boot total is over $175 as there are a few more expensive boots, then you can use our exclusive coupon code MOOSE60OFF175JULY coupon for your order. It will give you an extra $10 off.
I love when deals come together like this. If you have been wanting to pick up a pair of designer Hunter wellies, then this is the perfect promotion as the boot and the socks are together in one great little package.
(Expiry: unknown)