Shop.ca: $500 Esso Gift Cards For $435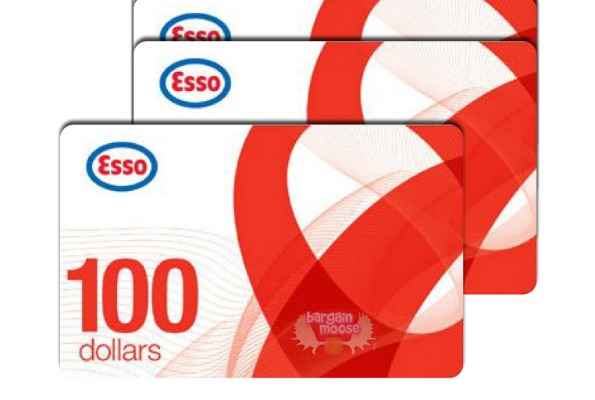 These gift cards are going quickly! Buy an Esso gift card bundle for $500 on Shop.ca and save $25 with promo code. Also if you have got an invitation email to this deal from PayPal you can pay $435 to get the $500 value. If you collect Aeroplan points you can earn up to 500 points and Aeroplan Distinction members can get an additional 500 points on top.
Click here to check out this deal @Shop.ca now
Coupon Code: ESSO25
Discount: $25 off
Expiry: unknown
The gift card bundle includes five $100 cards, the bundle with ten $50 cards has already sold out. They are valid for 24 months from date of purchase. The Esso gift cards aren't just good for gas, you can use them for car washes and at the service stations for drinks and snacks. With each purchase using the gift cards at Esso, you or the person you give them to can collect Aeroplan points.
My family always gives some form of gift cards over the holidays and this one would be great for my older uncle. I never know what to buy for him! At least it is something I know will get used. They also make a great gift for everyone from students to your business clients instead of the standard bottle of wine or chocolates. Like everyone else, I try to get something for people that they might actually want, and gift cards are great for giving people the chance to get the right thing for them.
You can also keep the cards for yourself so that it will last you for awhile and decrease your regular gas costs with the up to $65 savings. When I can, I regularly use Esso because it can help to keep your Aeroplan points going. The points expire if you don't make a qualifying purchase within 12 months. Most people don't know it doesn't always have to be a flight or something airline related to earn points. You can earn them buying gas at Esso. Or if you are close to redeeming your Aeroplan points and just need a few more, you don't have to wait for another flight or buy something else you don't need. Just top up on gas.
 If you are buying for yourself anyway you look at it is a bargain because you're saving $25 on gas you are already buying!
Shipping will be free for these gift cards. Check out Shop.ca on the forum for more coupon codes.
(expiry: unknown)