Shop.ca: $10 Off Roku 3 + EXTRA $10 Off + 2 Free Months Rdio Subscription + $25 Cineplex Credit (& Free Shipping!)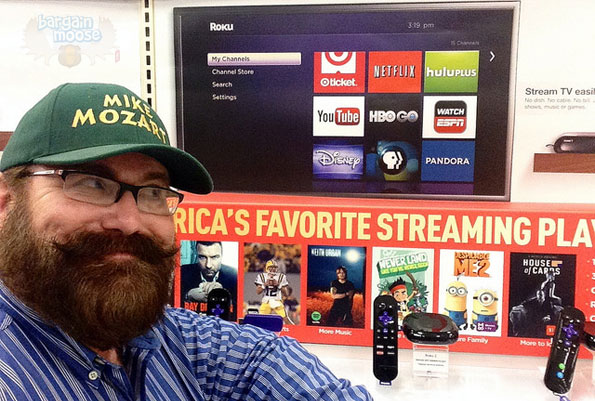 Gone are the days of walking into a video store and choosing a couple of movies to marathon through that evening with a giant bowl of popcorn. Media streaming is the new thing, though I still very much recommend grabbing a bowl of popcorn! During the next couple of days, you can grab the Roku 3 at a $10 discount for just $99.99 (reg. $109.99) and you can save an additional $10 off just by plugging in our Bargainmoose exclusive Shop.ca coupon code: BARGAINMOOSE10OFF50 at checkout, thereby reducing the price further down to just $89.99. Plus, you will also get a free 2-month subscription to Rdio, along with a $25 credit to Cineplex Canada.
Do like Mike Mozart (the guy in the picture) and get yourself or someone you know a Roku for Christmas. You won't regret it! Hopefully not at least.
In case you have never heard of a Roku, it's a nifty little media streaming device that allows you to watch plenty of movies, TV shoes, sports, etc. It's extremely versatile in that you can also play music and play games with it! Everywhere else, the Roku 3 is currently priced at $99.99.
Roku has over 450 channels with popular ones like Netflix, VEVO, NHL Game Center and many others. Keep in mind that some are free but others you need to pay for on a monthly basis. For Netflix, for instance, you would still need to pay the $7.99/ month fee but the use of a Roku simplifies the viewing experience. If you use a video console like a PlayStation or an Xbox to watch Netflix, then you will know how tedious it can be to not only wait for it to load but also to browse through the available content. Roku simplifies this task, especially since you can even use a smart phone to browse through the content and channels.
The cool part about the Roku 3 is that it also comes with a set of headphones that you can plug into the remote when using the Roku. This is particularly useful if you won't want to disturb someone else in your home.
The only hitch with the Cineplex credit is that it's not available to Quebec residents. Don't despair if you're from Quebec, however, as there is a Quebec-only Cineplex promotion for a free upgrade to an Ultra AVX movie available this month only that you can take advantage of instead.
Shipping is also free.
(Image Credit: Mike Mozart)
(Expiry: 12th December 2014)