Roots Canada: Free Shipping Now!
For the next little while, any purchase you make online at Roots Canada doesn't have any shipping fees!! You can shop from the comfort of your home, and get some nice new clothing delivered straight to your door.
If you check out the items in the clearance section, you might be able to get some bargains. Let's see some examples: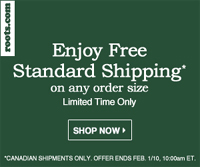 The free shipping offer ends on the 31st of January 2010.