Please Mum: 50 - 70% Off Entire Store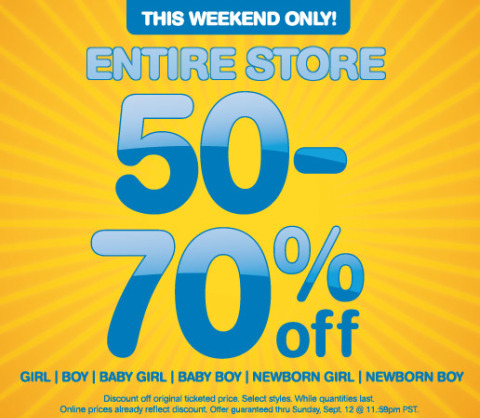 Please Mum is having an AMAZING sale right now, with 50 - 70% off the entire store!
This sale is only going till September 12/10 @ 11:59 PST. As you can easily tell they have some absolutely wonderful discounts! Just look at these markdowns:
There is just SO MUCH STUFF that is discounted... oh wait.. it is the entire store!!! Shipping is FREE with every order. There is no excuse not to have your kid fully dressed in some snazzy stuff and still be on budget!
Here are a few words from Bargainmooser Laura about the deal:
Starting today I noticed that PLEASE MUM are having a sale of 50% off their entire store. Some girls stuff is even up to 70% off. They always offer free shipping (no min. order) on their website ~ & in the past I have received items into my mailbox within 3 to 4 days. The sale appears both in store & website. I love that the sale is on everything including winter coats even! For us rurally this is fabulous opportunity to get some great deals! the sale is on all weekend!