Penningtons Canada: Up To 50% Off Sale Items PLUS Extra 50% Discount PLUS Totally Free Shipping! (Up To 75% Off)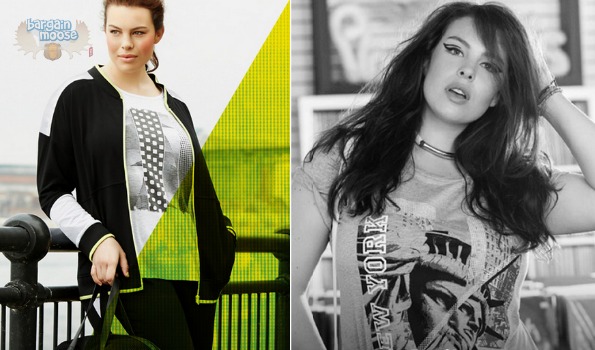 A couple of deals are happening at Penningtons Canada this Easter weekend, which when stacked together, can make for some very interesting prices on their plus-size clothing. First of all, there's a busy sale section in which you can get up to 50% off the regular prices of many of their items, Secondly, all of these items have an extra 50% discount off the sale prices. And thirdly, there is free shipping with no minimum spend too!
If you are looking for a few extra pieces to add to your closet, this sale may be the ticket. I am seeing a great selection of choices today. You must click into each item to see the price further reduced by the additional 50%. Do not be fooled by the prices that you see at first glance in the clearance section, they get even better when you start to click into the items and add them to your bag.
Take the ActiveZone Plus-Size Bomber Jacket that was $56. It is on sale for $49.99 but now is only $24.99. That is a steal at 55% off for an active jacket that you can layer and use in most seasons. I even find myself wearing my active jackets on windy days  in summer. If you want the matching pants, they are also on sale for 57% off. The ActiveZone Plus-Size Mesh Insert Track Pants was $46, are on clearance for $39.99 but now are only $19.99. You will look fabulous at the gym or the park in this matching set, plus you will have bragging rights for scoring a great deal.
Here are a few other great deals you can find in the sale section:
Activewear:
Tops:
*The same halter top is also available in red for $17.49 but only if you are size zero.
There are many more items to choose from, and all come with the aforementioned free shipping. Sizing can get a little spotty so you may want to narrow down your search results as you shop. I am also seeing some great light jackets, leggings and a few dresses appropriate for work in this sale. This sale is worth checking out, there is a lot of items to choose from. I would not wait, as the last time Penningtons offered a similar sale the stock went quickly. Order those must have items now!
(Expiry: 6 April 2015)