Pajama Sale & Free Shipping Today Only @ Snug as a Bug Canada (EXPIRED)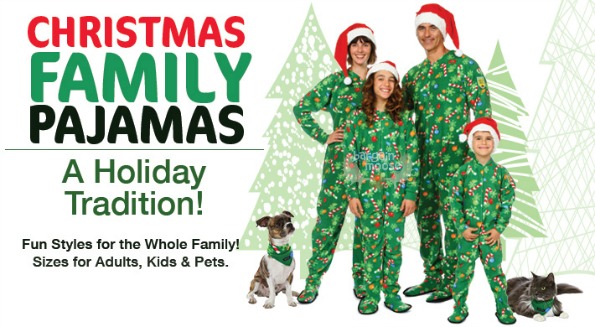 Snug As A Bug Canada has gifts for everyone on your Christmas list! Today they are offering free shipping on all orders until midnight – so combine this with some of their offers and complete your Christmas list. Shipping is normally $12.95 flat rate, so that is a great savings right off the bat. The first thing I came across when I opened SnugAsABug.com is that they are having a Christmas Family Pajama Sale. This event will allow you to save more when you spend more, which really works out if you are buying for the whole family. The coupon codes below will also allow you to save some money, but they are not applicable on the pajama sale.
Click here to shop at Snug As A Bug
Coupon Code: ISAVE25
Discount: $25 off of $150 purchase
Expiry: 18th December 2014
Coupon Code: ISAVE50
Discount: $50 off of $250 purchase
Expiry: 18th December 2014
Coupon Code: ISAVE150
Discount: $150 off $500 Purchase
Expiry: 18th December 2014
White the best savings offer is when you spend $500, I don't think many of us will reach the $500 mark. The $150 spending mark might not be so difficult to reach though. Just remember that the buy more save more offer can only be applied to regular priced onesies, pajamas, and pet styles.
It is adorable that they have family matching PJ sets for adults and kids. My mind was automatically drawn to the highlighter pink and navy pajamas set. The kids highlighter pink or navy footed pajamas are $44.95 and the adults navy or highlighter pink footed pajamas are $74.95 per pair. I added the pink and navy adult pajamas to my cart and qualified for the $25 off.
I have been wanting to get myself some onesie pajamas for quite some time now, but was always worried about the work involved if I needed a pee break in the middle of the night. I do notice that some of these onesies available at Snug As A Bug have a "drop down seat" which most likely eliminates that issue. They sure do look warm though! Also, some of the onesies are "hooded" and I think that might bother me for falling asleep. What about you?
You can combine the free shipping offer with either of these savings promos, which is just the icing on the deal. Snug as a Bug is also still shipping in time for Christmas Delivery – which means if you get your order in today then your items will arrive in time to be wrapped up and placed under the Christmas tree!
Always check the Bargainmoose forum for the latest in coupon codes and sales from Snug as a Bug.