Nexxtech Pocket Calculator Only $2.99 & Free Shipping @ The Source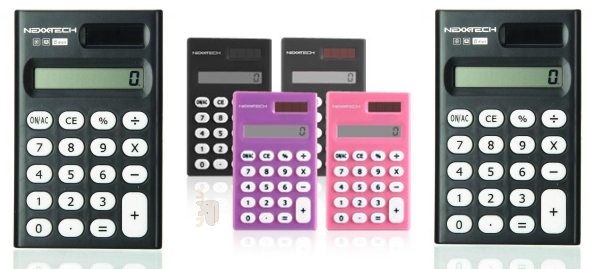 If you are looking for a simple calculator to stick in your child's backpack, then look no further than the Nexxtech 8-digit Pocket Calculator on sale from $4.99 down to $2.99. Use coupon code TS499 for free standard shipping on your calculator to your own door. Make sure to choose standard shipping at checkout.
As you are ordering your calculator online, you will not get to choose the colour. Your calculator will come in pink, purple, blue, or black. If you want to pick out your own colour, then you will need to visit a The Source store near you.
This little pocket calculator has an LCD screen, comfortable rubber keys, and transparent housing for a little fun. The calculator has two types of power input: it runs on both solar and battery power. The calculator will shut off automatically to conserve power.
Now, I know that most cell phones come with calculators these days but in the class room you are not supposed to be on your cell phone. Do yourself, and your kids, a favourite by purchasing a simple calculator that will fit in your back pocket. Toss them in your child's backpack so they will always have a calculator nearby.
Personally, I prefer using a physical calculator as I find it easier to do calculations while I am on the computer instead of hopping back and forth between windows.
I found this exact same calculator sold on eBay Canada for $4.99. Now, I price compared inexpensive calculators from other major Canadian electronic retailers. Here is what I found:
$4 @ Walmart Canada
$5.58 @ Best Buy Canada
$4 @ Amazon Canada
$3.29 @ Staples Canada
$4.99 @ Canon Canada
Now, Staples Canada was the only other company I found with a $3 calculator but it was available in store only. Keep in mind, that all the above calculator price comparisons would also require you to pay for shipping (except Canon).
Given the price of little pocket calculators at other stores and the added fee of shipping if you purchased at another store, I think this is a fantastic little deal!
(Expiry: 26th August 2015)