Newegg Canada: Combat Creatures Battling Spider Robot - Now $50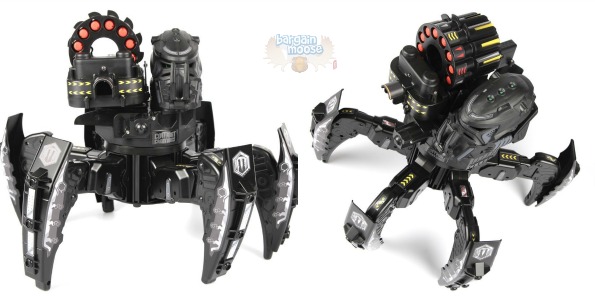 I found a funky toy during the Newegg Canada Labour Day sale. This Combat Creatures Attacknid Stealth Stryder Battling Spider Toy Robot with App-Controlled Battle Brain and Dart Blaster is on sale for just $49.96, down from the original retail price of $199.99. Best of all, the toy spider robot comes with free shipping.
I price compared this toy with a few other places to make sure that you were getting the best deal from Newegg Canada. The Combat Creatures Attacknid Spider Toy Robot is $74.99 at Amazon Canada and $89.99 at Shop.ca. Newegg beats the nearest competitor by $25, so I consider this deal pretty good.
So what IS this thing? Well, it is a robot in the shape of a spider with sex legs and a dart gun mounted on the top for battling your friends or scaring your cat. You control both the robot and the dart blaster via an app you install on your smartphone. The app communicates with the robot via Bluetooth. The app can be downloaded for free on iOS 4.3 and Android 4.0 or later devices.
This robot is so cool it hurts! The head rotates a full 360 degrees, so you can never be caught from behind without being able to rotate around to face your opponent. The dart blaster can fire 12 darts up to 35 feet. However, take three darts directly in the battle brain and you are disabled! The darts can also blast combat armour off the legs with direct hits, and other cool stuff. This is certainly a toy that you want two or more of in your house for ultimate duels.
I checked out the reviews on Amazon Canada, and this one caught my eye as being a fair assessment:
There are a few mechanical things to work out. The armoring can be finicky and you need to be careful when replacing the cylinder. Also putting the stickers on was more hassle than fun. A little more practice and the mischief is legendary. It scares the crap out of my cats but all in good fun.
I think my cat would be quite entertained; maybe a little annoyed but certainly get a lot of exercise with this robot in the house. I would have to be careful with the ammunition though as Mr. Ghost would try to eat it.
This toy looks like a lot of fun; let me know if you pick one up!
(Expiry: Unknown)