NETIS 8 Port Ethernet Switch Was $30 |Now $10 & Free Shipping @ Newegg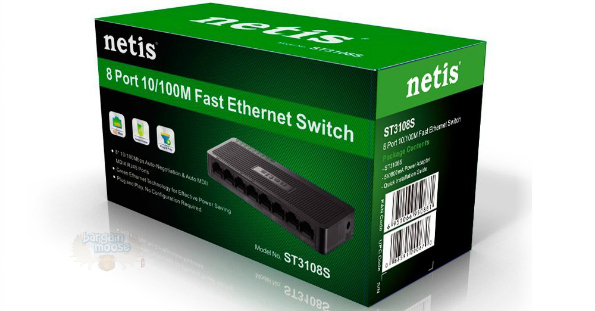 Newegg Canada has discounted a basic eight-port Ethernet switch from $29.99 to just $9.99 with free shipping. For Moosers on a budget, this is a good basic ethernet switch.
This NETIS switch is one of the larger NETIS ports. This switch comes in a 5-port model, which retails for more than the 8-port switch one. The device has 8 x 10/100Mbps auto-negotiation RJ-45 ports, which support auto MDI/MDIX. The switch comes in a plastic case and can be placed on a desktop or wall-mounted.
The unit is plug and play, no configuration is required. It is great for technology inept people who can barely find the username and the password for their network, let alone program it.
Green Ethernet technology will save you up to 70% of the power consumption of a regular router. I do find that most routers these days come with green technology. The device is also quite small. It measures 4" by 2.25" by 1".
I tried price comparing, but this device is not sold at many other places in Canada. I did find the same port on sale in the USA for $9.99 USD @ Amazon.com and $14.99 USD @ Walmart.com. Given those sale prices in the USA, and the exchange rate right now, I figured this was a pretty solid deal.
The reviews are actually quite nice as well. With eight reviews, the switch has a solid 4/5 egg rating. One reviewer said:
This is a great little switch. The pictures make it look much larger than it actually is, but in reality it is the same size as (or smaller than) a modern smartphone. It is really easy to hide away and does not take up much space at all because of this, and it was just plug and play.
The same reviewer also bought it on sale for $10 and thought it was worth every penny that he paid!
For a basic Ethernet switch, this will do the job. Usually Newegg Canada has shipping charges for everything you buy, but this qualifies for free shipping. You can check out the rest of their free shipping offers via their website.
I was looking around and found this ORICO DCX-4U 5V7Amps 35W 4 Port Smart USB Wall Charger for a great price. Originally $40.99, the wall charger is on sale for $15.99 with free shipping. This is another solid electronic purchase.
(Expiry: unknown)