NCIX.com: ADATA 4200mAh Power Bank Was $32 | Now $15 & Free Shipping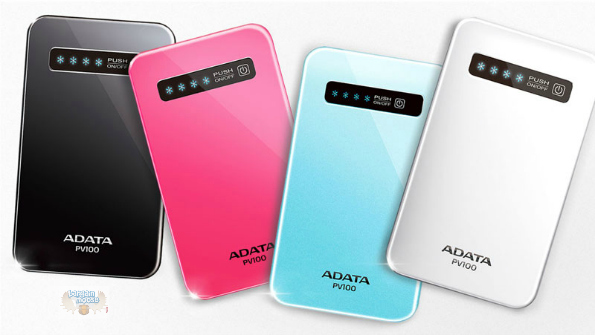 If you still have not picked up an external battery, or you need a second unit, now is your chance. NCIX.com has discounted ADATA PV100 Power Banks (4200MAH) 5V 2.1A from $31.74 down to $14.99 with free shipping.
This is an excellent mid-sized battery. It holds over twice the power as the Patriot Fuel deal that I blogged about before, which was certainly a hot deal. I think that this battery pack deal is pretty hot too. The same battery costs $26.99 + $7.99 shipping at Newegg.ca. A secondary seller on Amazon Canada sells these for $29.32 + $6.07 shipping.
Those prices seemed a bit high, thus I decided just to compare with other power banks. RAVPower makes a 3200 mAh power bank that retails for $17.99 on Amazon Canada. Anker also makes a 3200 mAh external battery that retails for $25.99 cheapest. Both of these batteries have less storage capacity and cost more.
This ADATA power bank comes in black. It has a very slim profile (only 8mm) and is just larger than an iPhone 5, so about the same size as an iPhone 6. With 2.1A output, your devices will charge faster. If you have ever seen a power bank with two USB outputs: generally, one is 1A and the other is 2.1A. If unmarked, you can accidentally charge your phone via the slower port, which takes longer.
The PV100 power bank has four indicator lights for the power remaining in the battery. This will display when you push on the LED indicator light. The front and rest of the body is otherwise clean.
The device comes loaded with safety mechanisms including:
OTP – Over-Temperature Protection
SCP – Short Circuit Protection
OVP – Over-Voltage Protection
OCP – Overcharge Protection
ODP – Over-Discharge Protection
OCP – Over-Current Protection
All these protections keep your phone from being harmed during the charging process. As for compatibility, almost any microUSB powered mobile device can be charged via this external battery.
I give external batteries to all my friends and I highly recommend them to the friends / family I am not close enough to in order to buy gifts. However, external batteries can only do so much. If you forget to bring your external battery, then it cannot save your dying phone (a friend of mine did that last night).
(Expiry: 10th June 2015)