Monarch 3-Piece Desk Set Was $300 | Now $100 & Free Shipping @ Best Buy (EXPIRED)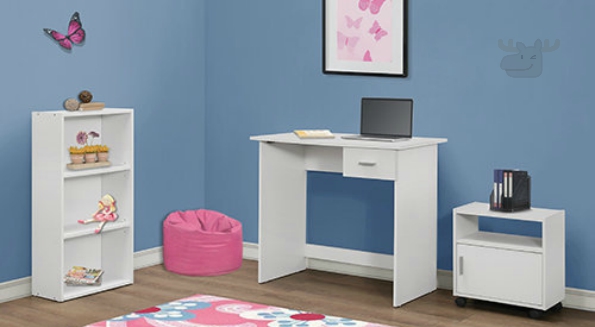 If you are looking to set up a home office or study room, then we have the perfect furniture deal for you. This Monarch 3-Piece Desk Set was $299.99 but is now on sale for $99.99. Receive free shipping on your order as well. This is a one-day deal so purchase today or you are out of luck!

This furniture set includes a three-shelf bookcase with two adjustable shelves, a writing desk with a storage drawer, and a multi-purpose cart. This set is perfect for small rooms and small apartments where space is at a premium. You have everything you need in these three pieces - except a chair.
I was thinking of this as a great set for working from home or for when your children do their homework. The desk can be used to store books, files, paperwork, and more. Place your desktop or laptop upon the desk but make sure to leave space a space for working on paper.
Next, the multi-purpose cart can really multi-task around the house. It has a top, an open shelf, and a cupboard. I was actually thinking of this as a great art supply cabinet as it is on coasters. Your child can store their art supplies in the cupboard and wheel it to whichever room they are going to be working in. This might also make an excellent console for sewing supplies as well. There are so many things you could use this cart for.
Now, a few people received defective sets (scratched)... if this happens to you then make sure to exchange it! Other reviewers had a positive experience:
It was able to carry all my nursing books and I am amazed that it held on. It was very quick to assemble. The table fits enough in my small space and is sturdy. I recommend this for those who have small spaces and limited budget but would like to have a study or office desk set.
There are three colours to choose from: Maple, Cappuccino, and White. I am pretty partial to white because it lightens up a space.
(Expiry: 27th August 2015)