Mittens and Gloves Were $13 | Now $3 & Free Shipping @ The Children's Place Canada (FREE SHIPPING EXPIRED)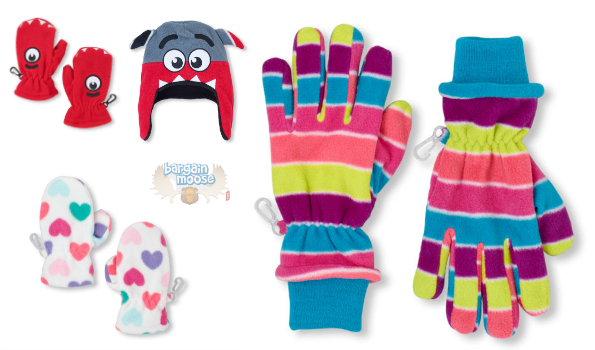 The Children's Place has some great mittens for babies, preschoolers and older girls on clearance right now for between $3 to $5. Free shipping with no minimum is included with every order.
Mom where are my mittens? You may have heard that sentence a few times this winter already. If your mitten stash is getting low now is a great time to pick up a few extras and help make the morning scramble a little easier. The Children's Place has some great options that will help you coast through the rest of winter and even into spring. It is also a great time to stock up next year's mitten supply. If your kids are anything like mine, they need more than a few pairs to get through the winter.
These Microfleece Heart Mittens are super cute and versatile. These mittens were $12.95 but are now only $3.60. They currently come in sizes twelve to twenty four months or two to four years. The hearts are pink, purple and turquoise, which should match at least half of the options for girl's coats out there. This is a pair I would snag to wear into springtime and would continue to have my daughter wear with a hoodie on those days in spring that are still chilly. Those little hands get cold holding onto those chains on the swings.
Check out the Striped Microfleece Gloves that were $12.95 but are now only $4. These gloves are available in size small/medium. They fit a wide range of kids as they say they will fit girls age four to seven. These bright coloured gloves should also easily pair with a spring coat. They have a stretchy ribbed cuff to keep out your kids wrists warm also. Half the time my daughter's gloves are drooping off her wrists anyways, so that cuff will ensure a better fit.
For baby boys who fall in the six to twelve month or twelve to twenty four month range, you can check out these Red Monster Microfleece Mittens. These fun mittens were $14.95 but are now only $4.20. I like that the eyeballs on these red monster gloves eyes are stitched not just printed onto the mittens. Sometimes the screen print wears off quickly with rough and tumble kids. Plus, I would enjoy telling my little boy it is time to put on his monster hands. If you like matched sets, this one has a matching monster hat on clearance that was $12.95 but is now only $4.40.
There are some other great deals on clothes at the Children's Place right now in the clearance section plus sitewide there are other savings up to 50%. Make sure you poke around a little bit in your kid's size. It is the perfect time to grab a few smaller priced items on the cheap when free shipping with no minimum is available. Stock up now as the sizing availability may not last.
(Expiry: Unknown)