MICHI NY Canada Coupon Code: Free Shipping No Minimum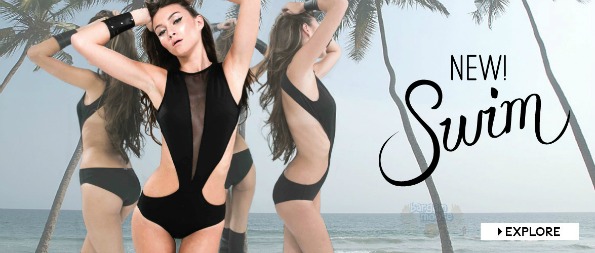 Receive free shipping with no minimum at Michi NY Canada this week. Michi does not offer a free shipping minimum usually, or free shipping, so this is a rare deal. Shipping usually costs $8.95 across Canada.
Click here to shop @ Michi NY Canada now
Coupon Code: CELEBRATEJULY
Discount: free shipping
Expiry: 6th July 2014
Michi creates athletic and swim gear that is actually attractive. Imagine mesh cut outs, strappy detailing, and beautiful curves... and you are imagining Michi gear. They are the most fashion forward athletic wear company right now. Oddly enough, they are not only a Canadian company but they also make all their clothing in Canada as well. It is uncommon for companies to manufacture in Canada anymore because manufacturing in the sweatshops overseas is just cheaper. Personally, I am always more likely to support a company if they keep their manufacturing local and ethical.
I used to own the Medusa Bra in black, which is a beautiful sports bra with a lovely t-back connected with a gold ring. I really liked wearing it with low back shirts that showed off the straps or with transparent tops. The sports bra retails for $115, which may seem a bit high, but you are paying for a good quality product made local. You are not only supporting a Canadian company, you are also supporting Canadian manufacturing and the Canadian economy. I would like to get the Antigravity Bra in black for $85 in the future. I just adore mesh and this bra certainly brings it.
Of course, any true fashionista wants to pair her sports bra to her athletic pants. These Motorino Crop (below knee) Pants feature mesh inserts just above the knee that span around the leg. You can also get other crops with mesh panels up the side, crossing in front, and in other fun patterns. The Motorino costs $119, which is fairly competitive in the market for athletic crop pants. Most people would not blink an eye at paying $119 for the newest Lululemon crop when these, in my opinion, look far better and probably perform as well.
If you are a swimmer, be sure to check out their swimming gear too. The bikini tops can double as sports bras so when you purchase the Abyss Bra for $110 you are getting a multifunctional item. The matching Abyss Bikini bottom costs $110 and will have you swimming in style.
For this and other Michi coupon codes, check out the forum.