Mastermind Toys: Thomas & Friends Volcano Park Set Was $130 | Now $78 & Free Shipping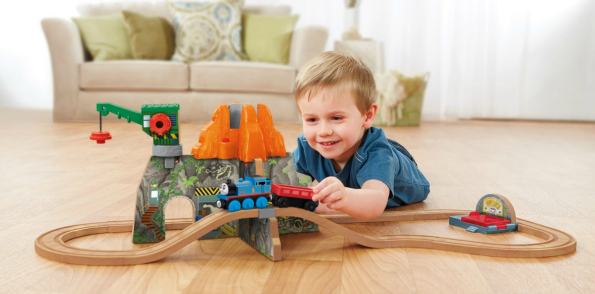 What is one of the most popular toy themes ever made for kids: Thomas & Friends. Every child seems to go through their 'obsessed' with Thomas stage at some point. While checking out the Mastermind Toys clearance sale, I discovered this Thomas & Friends Volcano Park Set on ale from $129.99 down to $77.99. All orders of $60 or more get free shipping (up to $15 credit) so this set should ship for free to most locations in Canada.
This train set is inspired by the Dinos & Discoveries movie. The set 9includes a Thomas engine, volcaono, crane, fossil c-ray, track, and cargo car. In all, this set is composed of 28 pieces. There is more to this set then meets the eye: it has special features! Your little engineer can push a button on the volcano to send pieces of molten rock flying. Thomas better watch out! The crane also loads rock pieces into Thomas' cargo car. At the x-ray station, you can reveal what fossils are hidden within the rocks.
I consulted Brooke as her son was into Thomas. She said:
My son went through a huge phase where he only played with the Thomas & Friends Wooden Railway toys. While these items can be quite costly, I always bought them while they were discounted - like this set for example! These trains kept my son busy for hours and hours each day. When he eventually grew out of them and no longer played with them, I even found out they have a pretty high resale value. I was able to post them for sale on a mom page on Facebook and get quite a bit of money for all his trains. So all-in-all, these toys are definitely worth it.
A quick price check with other retailers confirms that this is the cheapest you can find the set right now. It costs $129.95 @ Chapters Indigo, $103.97 @ Toys R Us, and is being resold for over $150 @ Amazon Canada.
This is part of the Mastermind Toys clearance sale on right now. I wanted to mention the entire sale as there are some pretty cool toys in there besides just this set. The larger Thomas & Friends – Musical Melody Track Set is on sale from $189.99 down to $113.99.
There are an assortment of lower-priced toys as well. The Bixbee Owl Backpack - Small is on sale from $32.99 down to $19.79. This Scentco Smash Drive Jelly Donut was $17.99 and is now $10.79. This Ravensburger View from the Brooklyn Bridge 1000 Piece Puzzle was $22.99 and is now $13.79.
(Expiry: Unknown)