Mastermind Toys: Indoor Adventures Sale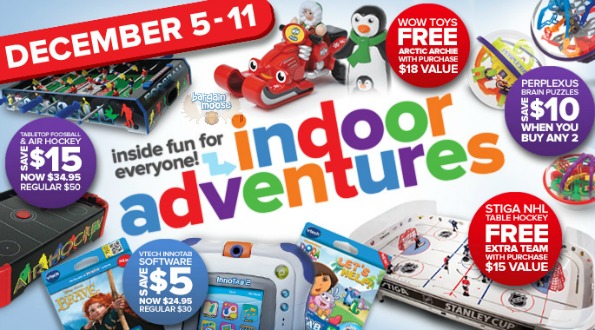 Mastermind Toys has five great deals on this week with their Adventures Sale.
Get $15 off a tabletop foosball or air hockey table. I think this gift is for the young and the young at heart. Regularly $50, get either one for only $34.95. Have head to head competitions using 18 little detailed players (foosball) or two pucks and two strikers (air hockey).
Or, go all out and get your little hockey lover the Stiga NHL Stanley Cup Table Hockey game for $129.95 and get a free Stiga NHL team. This table is the only officially licensed table hockey game by the NHL! With hand painted 3-dimensional players that can reach the puck anywhere on the rink, puck ejectors, plexi shields behind the nets, goal counters and many different teams to choose from, this is the ultimate hockey lover's dream. What better way to get your hockey fix during the strike? This set comes with the Toronto Maple Leafs and Montreal Canadiens, but choose from teams like the Detroit Red Wings for free when you buy this table ($14.95 value).
Perplexus is the "it" toy for puzzle and game lovers this season. This 3-D handheld game features a little ball to follow the right-side up, upside-down, sideways and twisted pathway, as you twist and turn the game to get the ball to move along. This game is great for all ages because it's easy to learn, yet tough to master! Right now, get $10 off the purchase of two Perplexus games. Get the rookie for the younger kids (starting from $22.95).
Get free express shipping until December 9th on purchases over $75.
Expires: 11th December 2012