Mastermind Toys Canada: VTech InnoTab 2S Now $83.97 (was $119.95)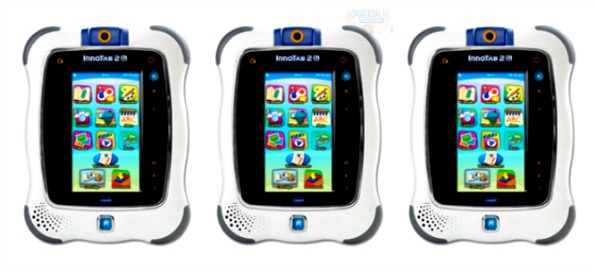 Mastermind Toys Canada has a pretty great deal on for anyone looking for a tablet for their little one.  Get a VTech Inno Tab 2S fro just $83.97 right now.
The regular price of this VTech Inno Tab 2S was $119.95 and it is now on sale for just $83.97. It is a Wi-Fi Learning App Tablet that is geared for children ages 3 years old to 9 years old.  It comes with a 2GB on board memory and an expandable SD card slot.
Here are a few of the awesome features it has:
Rotating Camera
5" Brilliant Color Touch Screen
Video Player/Recorder
Photo Viewer
MP3 Player
E-Reader
Art Studio
Motion Games
Microphone
2GB on-board memory
It is more durable and functional for kids than a more expensive tablet because it is made specifically for kids.
I did a little price comparison and I found the exact same device at Walmart Canada. They have it priced at $109.96 and all of theirs are out of stock right now. All of the other places I looked for it, they did not offer the 2S.  They had different models and the prices for those other models were all over the board.  The deal at Mastermind Toys was the best deal overall.
This item will get free shipping as well, which is a great little bonus!
(Expiry: Unknown)