Lululemon: Spring Fling Puffy Vest Was $128 | Now $69 & Free Shipping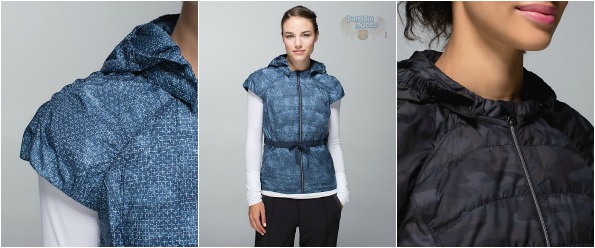 Lululemon Canada has discounted the Spring Fling Puffy Vest from $128 down to just $69 with free shipping.
Unlike many other clearance items, the Lululemon Spring Fling Puffy Vest is actually very well rated with many happy customers. Currently the spring vest has 31 reviews for an average rating of 4.3/5 stars.
This is a gorgeous down-filled puffer vest to keep you warm in all the right places. The 650-fill-power down is strategically filled into the vest to protect you where you lose heat the most. The vest is both lightweight and easy to pack as it compresses down. There is a removable hood and a drawstring at the waist for cinching the jacket in.
The vest currently comes in two lovely colours with almost all sizes still available:
sashiko cross inkwell ghost: 4, 6, 8, 10, 12
lotus camo black: 4, 6, 8, 10
I really like the inkwell colour and pattern; it is my favourite. Now, while women have loved this vest, there have been a few notes on sizing. The vest seems to hit a bit short on the body, so you may want to adjust your size to make up for it. This reviewer gives some very good advice on sizing:
This is a great buy on the WMTM for $69. Be sure you size up especially if you are tall or have a long torso. I am a true to size 10 and tried a 10 on in the store and it hit me above the hip and looked unflattering. When they went on sale I snagged a 12 and even though it is roomier it is also longer and hits me just below the waist. It is very flattering on and cozy.
While I would never work out in this Spring Fling Vest, I could see it keeping me amazingly warm while walking along the ocean during the winter or going for a small hike. I hate wearing anything bulky - I would rather freeze - so my core often gets very cold when I am outside during our BC winter. This sounds like something I would actually wear and enjoy. Then I could get rid of those heavier jackets that I own, and never wear anyway.
All items in the Lululemon clearance section are final sale. Items usually sell out pretty quickly too.
(Expiry: Unknown)