Lululemon Canada: Studio Boxer Short was $32 | Now $19 & Free Shipping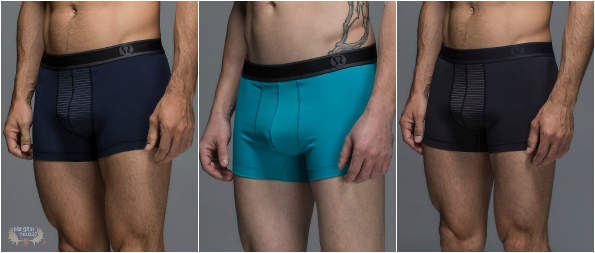 Here is a deal for the men! Lululemon Canada has discounted the men's Studio Boxer Short from $32 down to just $19 per pair with free shipping.
There are three colours to choose from, black, inkwell, and surge. The first, black, has the greatest number of sizes still available: small through extra-large. The inkwell and surge colours (variances on blue) only have sizes large and extra-large left in stock. Evidently, men prefer blue to black underwear. I find that somewhat unusual, as most men I know seem to live in black boxers or briefs... with a smattering of grey.
This is a snug-fitting pair of boxer shorts designed to fit smoothly under any clothing and hold everything in place. The anti-stink fabric allows you to sweat without everyone knowing. The material is breathable releases all your icky sweat in the wash instead of in your clothing. The material has four-way stretch, yet retains its shape so you do not have 'baggy-ass' syndrome like some 100% cotton underwear have.
Chafe resistant flat seams will keep you comfortable as well. These boxers are even preshrunk, thus preventing after dryer escapades of trying to wiggle into shrunken shorts.
Now, there are many reviews on these boxers for a cumulative 3.5/5 star rating. Quite a few men think these are too short in the leg. However, as a female, I really like the look of shorter boxers. In fact, shorter men can be positively dwarfed by longer legged boxers. That being said, these may not be ideal for tall men who like more leg coverage.
These are also a fairly slim cut, so muscular thighs may find they run tight or ride up a bit. My partner has slim thighs, so these would probably be perfect for him. Now, these boxers fit true to size, so a 29" - 30" waist should be comfortable in a size small. Other reviewers love the fabric and find the waistband very comfortable as well.
As with most products, you will find reviews from both those who love the product and those who have difficulties with the product. I find that it is best to read through reviews and see what body type these boxer shorts would best suit. More often than not, it is an issue of shape and fit - not every boxer will fit every person the way he likes.
(Expiry: Unknown)