$30 Off Lululemon Sculpt Short - Now $24 & Free Shipping @ Lululemon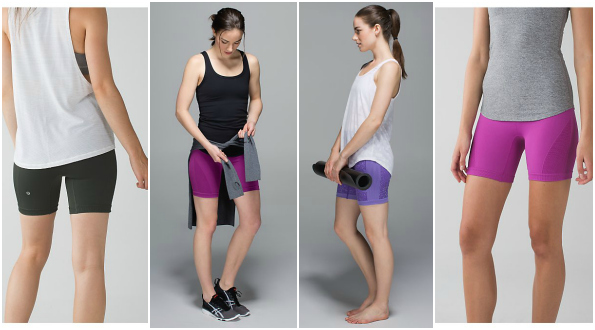 When I think of a new year, I think of getting in shape. When I think of getting in shape, I think about new fitness clothing. Lululemon is the company that many people think about when they think of what clothing they need for fitness. While shopping their website myself, I came across this Sculpt Short over 50% off. Originally $54, you will pay just $24 with free shipping.
I actually bought these shorts and they have already arrived! The leg is longer than most shorts so they do not roll up on my inner thigh. This is pretty much a dream when it comes to shorts as ALL my other shorts tend to gravitate up towards my crotch. I find that they fit true to size but, due to stretch, they can fit a tiny bit bigger than usual. I am sized out of Lululemon bottoms but these in a size 12 worked out perfectly.
The higher rise waistband really tucks in my tummy when I am standing but - due to my short torso - it rises above my waist when I am sitting. My thighs receive a bit of nice compression and everything is smoothed out. Did I mention they are pretty much seamless?
That brings me to my point: these are awesome anti-chafe shorts for layering under dresses. Seriously: they tuck in the thigh, smooth out the tummy, and the waistband sits well on the body without digging in. They also don't ride up so they are perfect for keeping your thighs from chafing when you are wearing a skirt or dress.
One reviewer said:
As a trainer, runner, cycler, you just name it I do it fitness wise these are the only shorts that I can wear as a small waisted, hippy girl that don't ride up. As long as they are the correct size these shorts are great. The quality is great and they are not see through.
The reviews on Lululemon are all over the place as some say they ride up and some say they don't. Some say they are comfortable, some say not. Some say flattering, some say definitely not flattering. I own a pair (in Gator Green) and the above is my view on how they fit. I am not sure they are particularly 'flattering' but what compression-style pair of shorts is?
FYI: The Zone In Tight and Zone In Crop are still on sale for $39 each - a few sizes are still in stock.
(Expiry: Unknown)