London Drugs: $25 Off When You Spend $100 With Visa Checkout & Free Shipping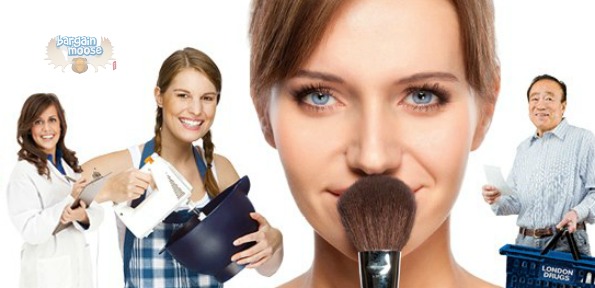 There is a new Visa Checkout deal today and it is another fab deal. Right now, you can save $25 when you spend $100 at London Drugs if you pay with Visa Checkout.
We have seen many deals for Visa Checkout lately, but if you are unfamiliar, it is a similar service to PayPal Canada. There are of course a few rules when you use this promotion. The deal works for orders with a total above $100 before taxes and shipping. Gift cards are not eligible for this offer. Any refunds for returned products will be based on the cost after discount.
If you do not already have a Visa Checkout account, you can sign-up after placing and item in your cart. Click the Visa Checkout button in your cart. I thought I needed to have a Visa card to take advantage of these great deals, but Visa Checkout accepts Visa, Mastercard and other cards also! I like that this is a bit more secure than giving my credit card number across the web. Once signed up, Visa Checkout will take you back to your order and link your account. If you already have a Visa Checkout account you need to click the Visa Checkout button in the cart also, but you will be prompted to sign in to your account.
The FoodSaver V3820 Automatic Vacuum Sealer with Marinator is on sale today over at London Drugs. This vacuum sealer was $199.99 and is on sale for $149.99. With the Visa Checkout deal, you can grab it for only $124.99. These same vacuum sealers are selling for $219.99 at Shop.ca.
For Father's Day, you may want to check out the Philips 2D SensoTouch Shaver. This elite electronic razor was $159.99 and is on sale for $129.99. You can grab it with this Visa Checkout deal for only $104.99! This razor sells for $199.99 at Best Buy Canada and $159.99 at Hudson's Bay. This sleek wet or dry razor has 17 days of battery life and recharges quickly in an hour. This razor is sure to give a clean shave and is a great Father's Day gift.
Shipping
Shipping generally costs at London Drugs, but I have some good news! If you sign up to receive the e-mails from London Drugs at the bottom of the main webpage, they will send you an individualized code for free standard shipping for your next purchase. That is a saving of $9.95 for me, though shipping costs may vary depending on your location. I tried it with the code sent to me, and the Visa Checkout deal stacked with the free shipping code. I threw the Vacuum Sealer in my cart to test.

What are you waiting for, grab your Visa Checkout deal. This deal is good for the rest of the month, but if you are looking for a Father's Day gift, you want to order now so your gift arrives in time!
(Expiry: 30th June 2015)